Review
Berry Nice!: A Review of




"Berry Aesthetic"

by

Berry good records
Written By: Zack
Published On: August 5th, 2023
In of summer 2022, UK-based future funk artist Strawberry Station released a bombastic collaboration to celebrate his new label, Berry Good Records. This record, Choose Your Character, comprises a mix of vaporwave, future-funk, and synthwave artists. It not only showcases a fantastic array of talent and sounds but tells a bigger narrative that helps set Berry Good Records apart from other artist-backed labels; the collective stands stronger than the individual.
This first album featured a variety of star players in the Future Funk scene from Daydream Deluxe to Ducat, yet the way they were arranged made each track stronger. You couldn't just listen to one or two tracks without wanting to listen to the next. It was a wild hit and an excellent way to kick off a new label in the vapor/future funk scene. Now, one year later the mad lad is about to do it again. This is Berry Aesthetic.
Berry Aesthetic has 16 tracks featuring the same kind of variety we saw with Choose Your Character, however, this time the emphasis is on vaporwave. We have Tupperwave, Luxury Elite, Desert Sand, and more to look at later on in this review.
Now if you're a veteran in this scene you might notice a difference between Berry Aesthetic and Choose Your Character: Where's the Future Funk? While CYC had known future funk artists like Ducat and Groovy Kaiju, BA's lineup is planted squarely in the vaporwave scene. We'll discuss this later on in the review, but Strawberry Station doesn't show up to the party with his signature style, but is that by design? If the lineup didn't tip you off, then the title and artwork should. The Berry Good logo is nestled squarely in a landscape of classic vapor iconography: checkerboard floors, pink coloring, dolphins, and marble columns. It would seem this time around, Strawberry wants to get more in touch with classic vaporwave. We'll take a dive into the tracks and see if this return to the classics pans out.
The front half of this album presents us with a warm front of late-night lo-fi vibes with the starting track "Cloud" by Fortune Lounge. This track is the perfect setup with driving bass and very prominent horn samples that put us at the heart of downtown. The sun is about to rise after a long night and we're ready to take on the big city. This track along with the subsequent track, "Palm Trees" by Luxury Elite, delivers a one-two punch of high life and endless possibilities but also keeps up the promise that this collaboration is all vibes, no filler.
We deviate from the late-night path a bit and take a detour down a back alley of classic chopped and screwed vapor with Calcium Demo's track "heartvapour" which harkens back to some early 2010s plunderphonics. However, we veer back onto the city streets with Tupperwave's track "Passive Obsessive". While Tupper brings out his usual sound fonts of smooth and melodic jazz samples, "Passive Obsessive" takes a dark turn into the city's seedy underbelly. The haunting laugh of a shady villain introduces us to a thumping kick and bass with a slowed-down, leaner audio journey.
Just as we start getting cozy, we're left in a void via alrightBABES "coral," a droning ambient track that would fit better on the back half of this album. Right off the bat, we are launched onto the dancefloor with Seabaud's track "It's Just Me," which loops a groovy sample (that I believe to be Janet Jackson but I'm not sure). This track is an earworm for the first couple of minutes, but this is a five-minute track. I see this as being the perfect dance track to play at a show or club, but for easy personal listening, it can drag on a bit. However, the same cannot be said for the next track which is Patibito's "onetwo". A dreamy synth soundscape that features not just one, but two tempo changes, the track is like a three-in-one. Rounding up the frontside of this album is "Vaccinium" by Late Arcane which acts as an upbeat, highly sampled banger to an otherwise psychedelic and high-energy album.
The back half of this album is where things really get interesting. While up until now, we've gotten a slew of eccojams, late-night lofi, chopped and screwed dance beats, the back side to Berry Aesthetic explores the more ambient side of vapor. We see a descent into that with "Into the Machine Core" by Kenmore Classic. The tuned-down synths and drones paired with the consistent beat evoke both synthwave and Sovietwave sounds that will send the listener to a hellish industrial complex. You can't leave. Only go deeper into the core. What awaits us on the other side? The king of slushwave, desert sand, provides. h their track "影と形のように" which translates to "Like Shadows and Shapes". Desert brings their classic blend of sample-free slushwave with this track that effortlessly whisks the listener to a higher state of being.
Grab a copy of the Cassette while supplies last!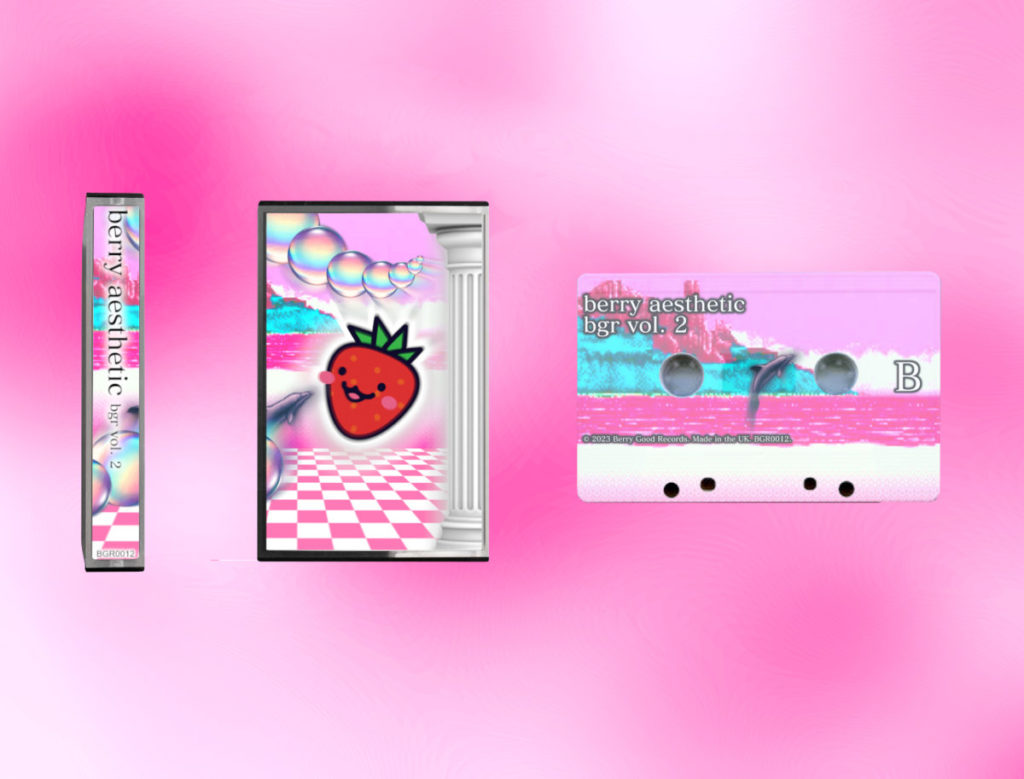 Following that, the energy of the first half of the album makes a return with Polyglot's "Good for Nothing Groove". I say this because this track fits much better with the first eight tracks. Perhaps this track and alrightBabes should switch places.
Returning us back to the ambient world is Hi-Plundered's track "出願します" which translates to "I will apply". By this point in the listener's journey, the city is quiet again. Instead of bright lights and sounds you're treated to a muted and chill walk of the town. Perhaps you'll stop into the local bodega for a quick bite?
The most surprising track on this album is the one the man himself makes. Strawberry Station's "Will You Remember" is a far departure from his usual sound. While this isn't Strawberry's first classic vaporwave track, he is known for Future Funk. What "Will You Remember" offers the listener is a chill eccojam that harkens back to the earliesty days of vapor. Think early Cat Corp. This, in my opinion, is what makes Berry Aesthetic such a standout release in this era of Vaprowave. Everyone is concerned with keeping things fresh and looking for the next microgenre, but when you really stop and think about it, Vaporwave as a genre is just over 10 years old. Experimentation is always welcome in this scene, but there's no reason to forget or look down upon a classic sound.
Speaking of something new, Berry Aesthetic gives a nod to some of the prevailing trends currently going on in the scene. AV0's "autumn winter" is a smooth barber beats track, a sound that seems to be on everyone's mind at the moment. After that, we have "Whispers in a Soundless Void", a hauntingly dark ambient track that reminds me a lot of Hallmark '87's albums such as The Atrium or Academy. Finally, we have Midnight Corresponder with "man of the world," a signalwave track that ends this album, nay, this experience with a big personality and a lot of energy.
While this may be a departure from what listeners are expecting from Berry Good Records, this collaboration offers a veritable party platter of major movements within vaporwave. Across 16 tracks we have late-night lo-fi, signalwave, eccojams, ambient, slushwave and so much more. I couldn't ask for a better representation of what this scene has to offer in terms of sound variety.
Check out the album now on Berry Good Records !