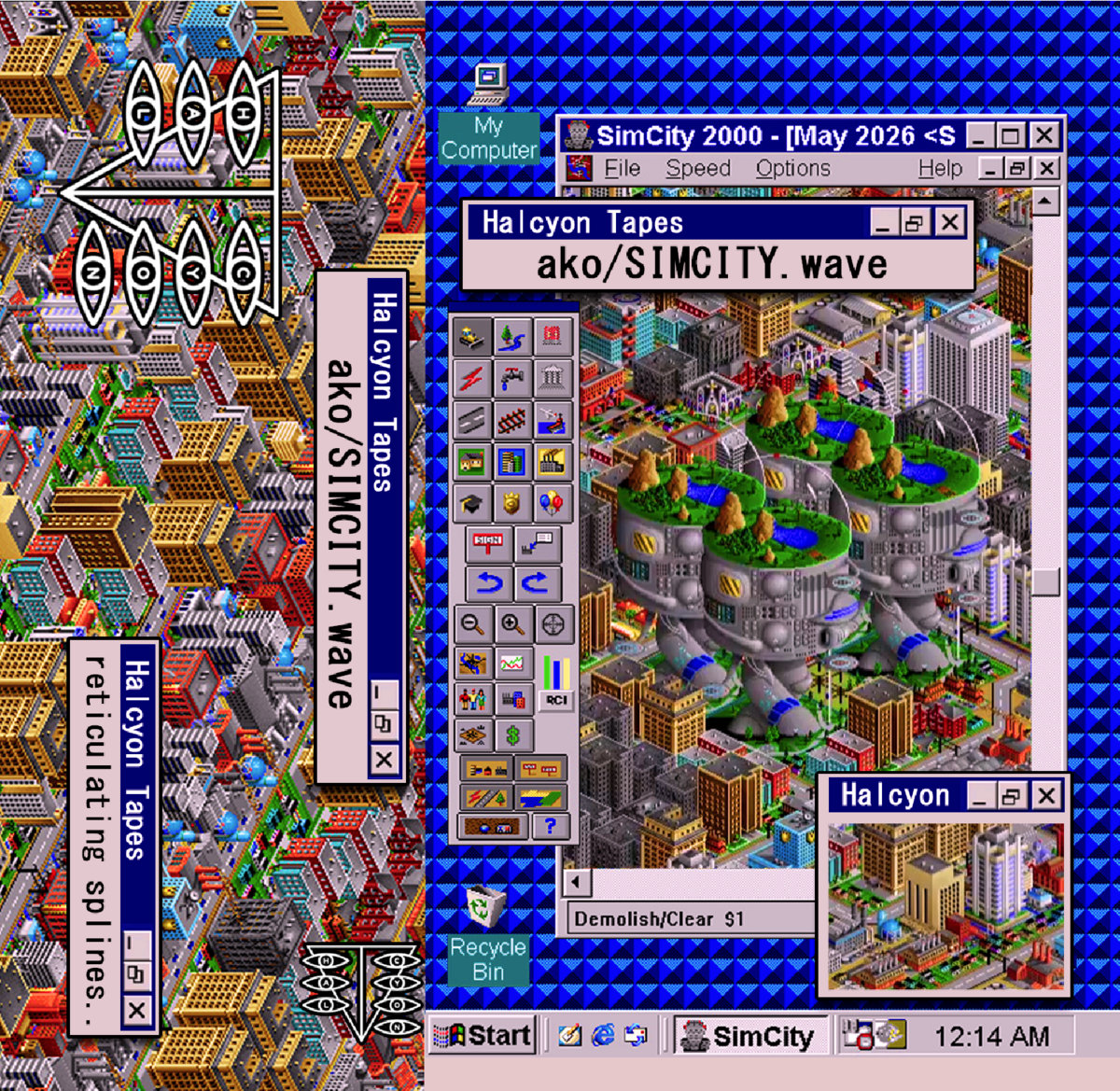 Album Review
SimCity​.​wave


by:

ako
Written By: C A S I N O
Published: October 20th, 2021
Anyone that frequents the Utopia District Discord server will know that I am the video game boy. I am the one who plays video games. Me. So it is with some embarrassment that I confess that I never played SimCity 2000. This is primarily because it seems really really boring. With that said, I cannot deny that from a vaporwave perspective, the game is on point. The graphics are a prime example of that 90's management game aesthetic and some of the music in the game would easily pass as vaporwave here in the far-off year of 2021. Combined with the fact that the game is responsible for creating the city building/management game genre, it is no wonder that someone went and made an album in tribute to it.
SimCity.wave is a product of ako — real name Simeon Soden of Newcastle — and it was picked up by Halcyon Tapes, Wizard of Loneliness' label. In ako's own words, the album is "a celebration of world building and the iconic game SimCity 2000, as well as a homage to FM synthesis." The album reimagines the music of the 1995 city builder — and while I am rather skeptical of the word "reimagines," ako does a great job of producing tracks that pay homage to the original sound track while still making something that is completely his own.
As the artist seems so fond of it, I feel I owe it to the readers to explain in very simple terms what FM synthesis is. FM — which stands for frequency modulation — refers to the art of modulating soundwaves with other soundwaves. In doing so, the original sound is minutely sped up and slowed down according to the frequency of the modulating wave. Going further, you can actually modulate the modulating wave with yet another sound, and so on and so on. The result is often a retro laser beam sound effect. In the hands of a master, though, it can create some really unique sounds. The actual sound is hard to explain, but you would know it if you heard it, as it played a big part in creating the sound tracks to some of our favorite childhood computer games. I encourage you to watch a youtube video about FM synthesis as someone else (anyone else) could probably explain it a lot better than I just did.
The album kicks off with SimCity.wave I (Skyscrapers) (the tracks are listed as SimCity.wave I through IV, but they have subtitle names. From here, I will only be using the subtitle names for simplicity) and it starts things right. While the other tracks conjure up images of managing your city, "Skyscrapers" instead focuses on actually building it. One can imagine towers being constructed in a sped-up time lapse by men in yellow hard hats, thanks to the upbeat tone and faster tempo. The harmony of the song is on point thanks to heavy synth use that really utilizes that FM synthesis sound mentioned above. It makes for some really cool beats and is expertly produced.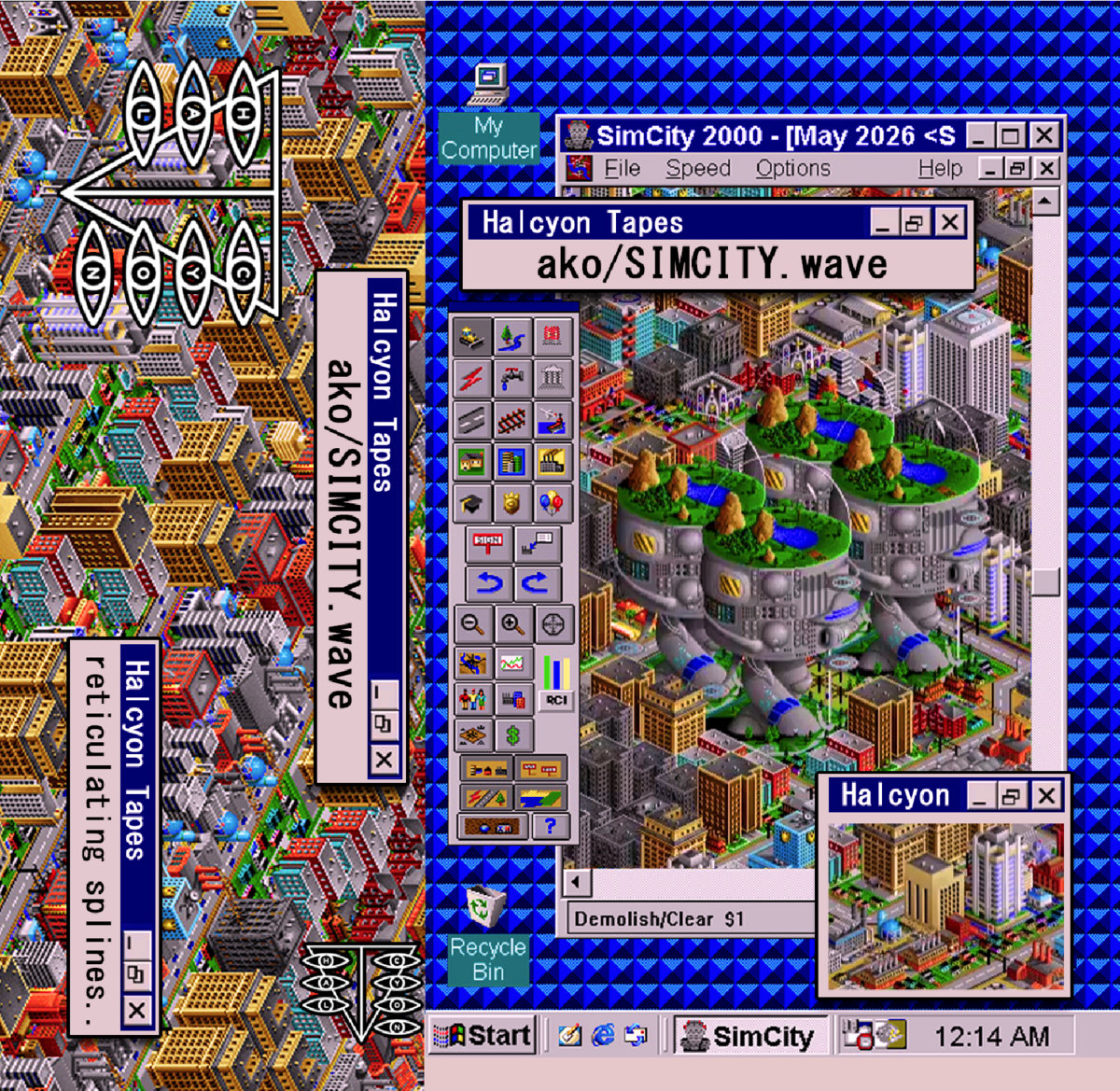 Album Art By ako
With your city now built, it is time to start the day! It is up and running now with cars moving like ants through the streets, and only through your careful management will this metropolis thrive. That is the scene that "Tax and Money/Dawn of the City" sets. The rhythm of the song is a tad boring, however the track is saved by the synth as it busts in with a groovy solo.
Time to micromanage! This thing more or less runs itself now, but damn it, you are still the mayor and it is your duty to make this city run as efficiently as possible! The album takes a groovier tone with "Melancholic Mayor" coming in as the third track. This track is a display of amazing harmonic work, as no one sound takes center stage. The percussion, the bass, and the synth all come together to form one complete piece that is wonderfully produced. Furthermore, the song mixes itself up just enough to keep things interesting without losing that harmony that makes it special.
As the sun sets, you gaze out upon your virtual creation. It is perfect. All that's left to do is to save and start a new game. Or summon a giant monster to destroy it. This song assumes you pick the first option. "Buildings" is a much slower-paced song than the others. It has an end-of-day feel to it, with long and hopeful sounding synth notes. There is also the cute addition of music box notes which adds to that aura of hope and fulfillment that this last track summons. The song ends rather suddenly however, which seems odd for a tune like this. One would expect such a song to have a gentle fading away of the music rather than such an abrupt end, but I suppose that one could interpret it as representing you quitting the game.
If the album's goal was to pay homage to a classic computer game and show off what a synth can do in the hands of someone that knows how to use it, then it definitely succeeds. Each track paints a picture in the listener's mind and brings us back to a more innocent time. I would not say that the sounds that SimCity.wave plays with are groundbreaking or astounding as much as they are cool and neat, but with that in mind, the album is absolutely worth a listen.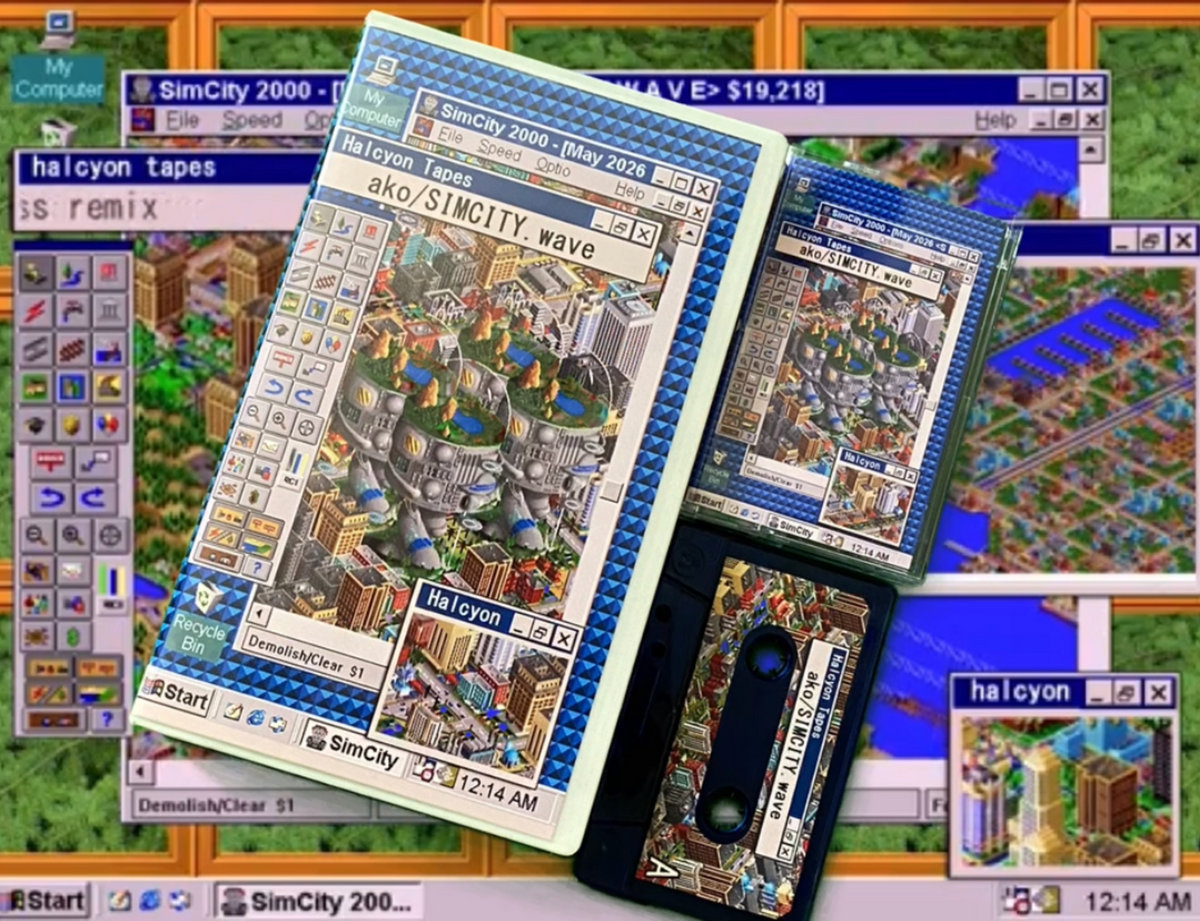 You can grab a copy of this cassette / VHS here from Halcyon Tapes Now!
ako
Get The Album!
Favorite Track:

SimCity.wave I (Skyscrapers)