Vaporwave Fiction
Mall Life: The City Of A Million Lights
Part 1
Published On:

November 2nd, 2021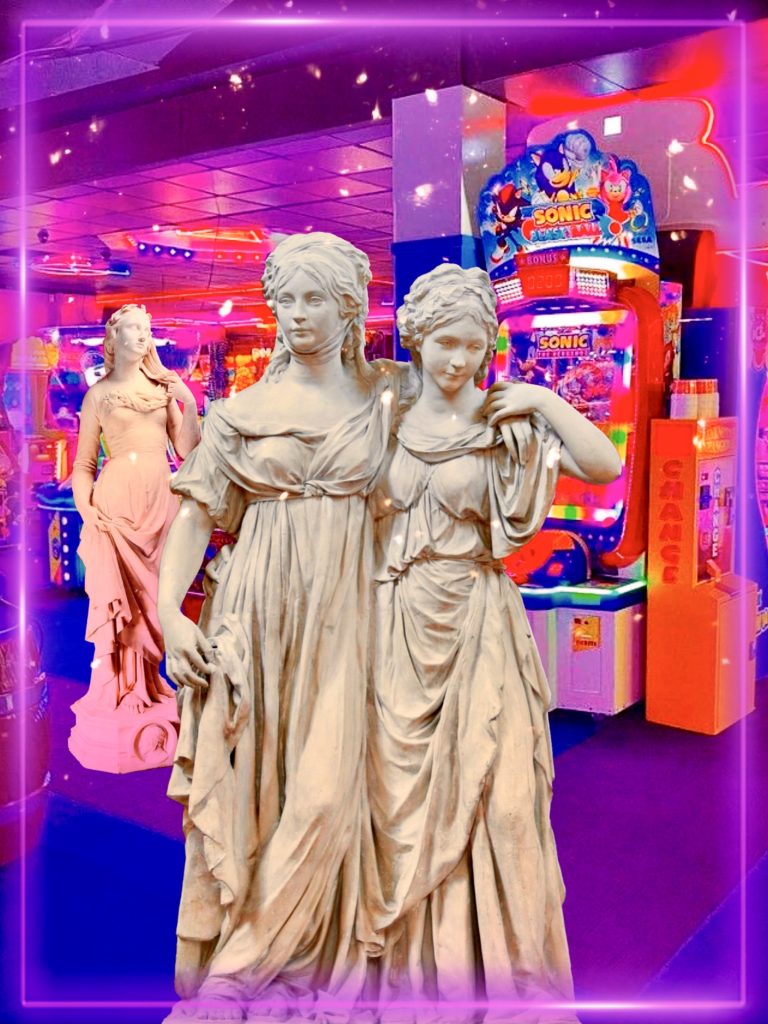 Art by Priestess
In the city of Neon Springs, you can live your whole life without ever stepping outside. The entire population of nearly 70,000 is contained in a single sprawling building. Frozen tundra stretches to the horizon outside its glass walls and elaborate skylights. Businesses dominate the lower floors lining the neon-soaked halls and cavernous atriums with their glass elevators, white column forests, and islands of manicured greenery. Three towers rise above this massive mall containing a maze of hallways and more apartments than there are people to live in them.
In Neon Springs, you can live your whole life without going outside. But here, "going outside" has a slightly different meaning. It just means leaving your apartment. Something that I am loath to do unless absolutely necessary. Which is why…
"It's New Year's Eve," my best friend said as soon as I answered his call. "You want to go do something?"
"Nope." I replied and immediately hung up.
When you've been best friends since childhood, you reach a point where rudeness is not only acceptable, but expected. So it was no surprise when I heard him pounding on my front door to the tune of his favorite song. Reluctantly, I got up from my desk to answer the door. I couldn't watch my cartoons in peace with that racket.
I opened the door and saw a recognizable — if unfamiliar — figure. It was my best friend, William Brownfoot, alright. I could tell, even if his face was obscured by a steel bucket helm. It clashed horribly with his band shirt and shorts. In one tattooed arm, he held a steel heater shield that had yet to be painted.
He shield-bashed my door open and seized me around the torso. I struggled and protested, but he held on tight and dragged me out the door. We stopped just outside so I could lock up, then he put me in another hold and continued dragging me down the hall. This wasn't the first time he dragged me outside, but he hadn't done it quite so literally before. The arms and armor were new as well.
"Now that you're up," William said as we headed for the elevator, "wanna get something to eat?"
"Sure," I said, thinking about my dwindling bank account. "Nothing too expensive."
"Food court?"
"Food court."
We took a slight detour so William could drop the helmet and shield at his place before we headed downstairs. The elevator doors opened to reveal a tundra bathed in shifting light of the aurora visible through the glass back. Snow fluoresced under the faint purple moonlight. I kept my eyes on the scenery as we descended towards the ground. Then the roof flashed by and replaced the natural scenery for man-made.
Off-white columns and tiles took on the color of whatever neon sign happened to be nearby creating a colorful tapestry of capitalism. Multiple strata of commerce, entertainment, and sustenance rose around a central atrium of fountains and potted plants. Stairs and escalators zigzagged their way between levels. The young and those who still wished they were strolled about in clothes that lit up like glowsticks, flashing patterns of fluorescent color. The cyalume scene that started a few years ago was still going strong.
We stepped off the elevator and into the bustling crowd. I noticed the faint eternal music that was designed to blend in with the noise of the crowd. Something about how nondescript it was stuck out to me. Perhaps it was my inherent paranoia, but I suspected it contained a hidden bard song designed to lull the masses into spending more money.
On the short walk to the nearest food court, we had a meandering conversation about what food to get from the bevy of affordable options. We could get something filling and meaty from under the swirling pink-and-blue sign for Holey Stromboli. Waffle Castle offered the most food for the least money. Uncle Tingle's Twisted Cinnamon was easy to eat while we walk around. If we were feeling brave, we could get something garlicky at Lizard Express. No, there was only one thing on the menu for us.
We headed for the shady corner of the food court near the bathrooms and escalator. A man with a mustache as big as his attitude stood below a sign wrought in faded green and the same shade of neon orange as the grease that dripped from their signature product. We each ordered a giant slice of pepperoni pizza from Mr. Greasy's. The man, who may or may not have been Mr. Greasy himself, leaned against the counter and watched us eat from afar.
"So, what's going on?" I asked, staving off food poisoning with sheer willpower. "I assume you had a reason to drag me out of my hermit cave."
"I talked to Tyr this morning," said William, "and they're throwing a party at the Handsome Mansion."
A number of our friends rented a large apartment together, so someone gave it the nickname 'The Handsome Mansion.' On account of the handsome men living there. It was a good pun, and I liked it better than the alternate nickname, 'The Hot Boy Hotel.'
"As much as I like Tyr and the rest of those guys," I tried not to sound too negative, "sitting in the corner while everyone else gets drunk isn't my idea of a good time."
William chuckled. "You say that like you have a choice."
"You can make me go outside," I said, "but you can't make me have fun."
"We'll see."
Since it was still relatively early, we wandered around looking for something to do. That's what we said we were going to do, but we really just spent a while wandering around the mall, talking. The conversation was about everything and nothing. It was the sort of conversation you have when you've known one another most of your lives and have no filter. One minute, we're having a deep philosophical discussion about religion; the next, we're discussing whether barbecue sauce makes for a good ice cream topping. All the while, my eyes casually scanned the passing scenery.
For all its problems, Neon Springs is a lovely place. From the food court with its array of smells and backlit glass bricks we went up the back escalator. We felt a gust of cold air from the public garage where all the machinery for traversing the vast tundra outside is parked. Then up an elevator to a public lounge area. I looked down at the public pool on the floor below. Lights under the water shifted through a rainbow of colors. From the lounge, we came out by three sets of escalators that went straight down three floors. Rows of columns flanked the stairs on either side and strings of lights dangled from the glass rafters above. Once back on the ground floor, we made a right and headed for the twisty path to the leisure district. Low ceilings and long, pointless ramps twisted, split, and reconverged in a maze of halls and potted plants. The halls here were lit by little more than the neon signs marking various establishments. White tiles were stained pink and teal. At last, in the vibrant depths, we stumbled upon something to do.
Gold lines and purple letters glowed over an especially dark doorway. Twinkling lights and a cacophony of music lured us in. There, our senses were overwhelmed by a colorful display of holograms, big screens, and mechanical wonders. The Dream Machine arcade was, simply put, awesome.
Our favorite game to play together was a mech pilot sim with full cockpits called 'Mech Suit Madness.' They were supposedly based on old training simulators for the military. The game featured a VS mode and a co-op story campaign. We played through the co-op until we died in the Battle of Betelgeuse stage. Then the real game began.
We selected our units. I went with the Momongaruda, a glider unit focused on aerial mobility, concussion bombs, and strong melee combat. William selected the Silvan, a unit with active camouflage and a focus on sniping. I furiously worked the twin joysticks and hammered the foot pedals to avoid instant death. Had to keep my movements erratic. Our battles were always a test of whether William could snipe me before I figured out his hiding spot and got in close. We played best of five. I gave it my all, but in the end, I lost 4-1.
"That was fun," I said as we left the arcade. "Now I want coffee."
"The Bean Counter's nearby."
"Hmm…" I tried to sound casual. "I like The Witch's Brew better."
"Oh, really?" said William. "Big fan of their signature blend, are we?"
"Fine, I like the aesthetic," I said. "Problem?"
"Sure you do," said William slyly. "Alright, let's hit Witch's Brew."
Despite the multitude of nocturnal people in town, few things were open past 8PM. And yet, you couldn't throw a rock without hitting a coffee shop. So many coffee shops, yet nothing to do when you're up late.
Located in a section of town with an abundance of used bookstores and magic shops, The Witch's Brew was a cozy cafe decorated with crystals and antiques. They made fresh baked goods and the coffee was decent, but what I really liked was the uniforms. The staff wore long robes over their casual clothes and wide-brimmed conical hats. The target of my unrequited love also happened to work there.
I met Eudora the previous year when she sat next to me on the first day of a history class. While I thought she was pretty from the moment I saw her, what really drew me in was her behavior. She was friendly if spoken to, but largely kept to herself; like me. Before class, she would read fantasy novels or scribble math equations in her notebook. I asked her if it was for another class and she told me she made up math problems for fun. When she noticed that I was often alone and casually mentioned that I rarely go outside, she asked to be my friend. I was initially startled by a girl showing interest in me, so I sprinted away without a word. Undeterred, she kept asking to be my friend until I conquered my nerves and said yes.
"Look who's working," said William. I could feel his sly grin.
"I see that."
I really did. The hem of Eudora's faded purple hat and robes glowed fluorescent pink to match the hair that draped over her shoulder. It made her normally pallid complexion look flushed. She smiled as we approached the counter.
"Hey, there. Come to see me?"
William and I answered at the same time.
"Yes." "No."
William and I looked at each other.
I cleared my throat and said, "Someone dragged me outside, so I thought I'd get some coffee."
"So, what can I get for you?"
I looked up at the menu. Aside from the uniforms, what set The Witch's Brew apart from the other coffee shops were its house blends. There were a lot of them and they all had names like 'Strawberry Nirvana' and 'Stolen Youth.'
"I'll have the Midnight Wonderland," I said. "And a galaxy brownie."
"Excellent choice."
"I'll have the Pumpkin Patch Nightmare," said William. "And one of those giant cookies."
"Coming right up."
There were enough customers behind us to keep Eudora busy while we waited for our orders. One of the other employees gave us our orders and we went to sit down. I positioned myself facing the counter so I could keep stealing glances at Eudora.
"Just tell her that you love her."
"What?! No!" I exclaimed. "I can't just be like, 'hey, be my girlfriend.'"
"That's literally how that works."
"Besides, she'd probably reject me." I frowned into my coffee. "Then I'd be out one of the few friends I have."
"Ask her to cast a spell on you."
"She's not a real witch, it's just a uniform," I said. "Besides, she probably hears that fifty times a day."
As if on cue, some guy with three popped collars said, "So, can you cast a spell for me, cutie?" And then he winked with an audible tinkling sound effect.
"See?" I said, gesturing with secondhand embarrassment. "I don't want to be that guy."
We finished our coffee and then it came time to leave. There was a lull in the customers and I was able to get a moment to say goodbye to Eudora.
"Well, sorry you have to work on New Year," I said. "Maybe I'll come back before midnight?"
"You can, but I won't be here," she said. "I'm off in an hour."
"Well, it's good that you don't have to work all night."
"I wonder what I should do," she said. "I don't have any plans."
My higher thought processes switched off and words spilled from my mouth faster than I could register what I was saying. "There's a party at the Handsome Mansion tonight, you wanna come? I understand if you're busy but, y'know, if you aren't and-"
"Sure, I can stop by."
I blinked in confusion. "See you later."
William wore a smirk as I approached. He patted me on the shoulder and said, "You just reached Step Eight."
In our early teens, I became a shut-in after some issues at school. William put me on a 'Socialization 12-Step Program' as he put it. Every so often, he would say that I completed a step. I honestly can't tell if he's making this up as he goes or if he planned this all out when we were fourteen.
Tune in next month for Part 2, the conclusion to Mall Life!