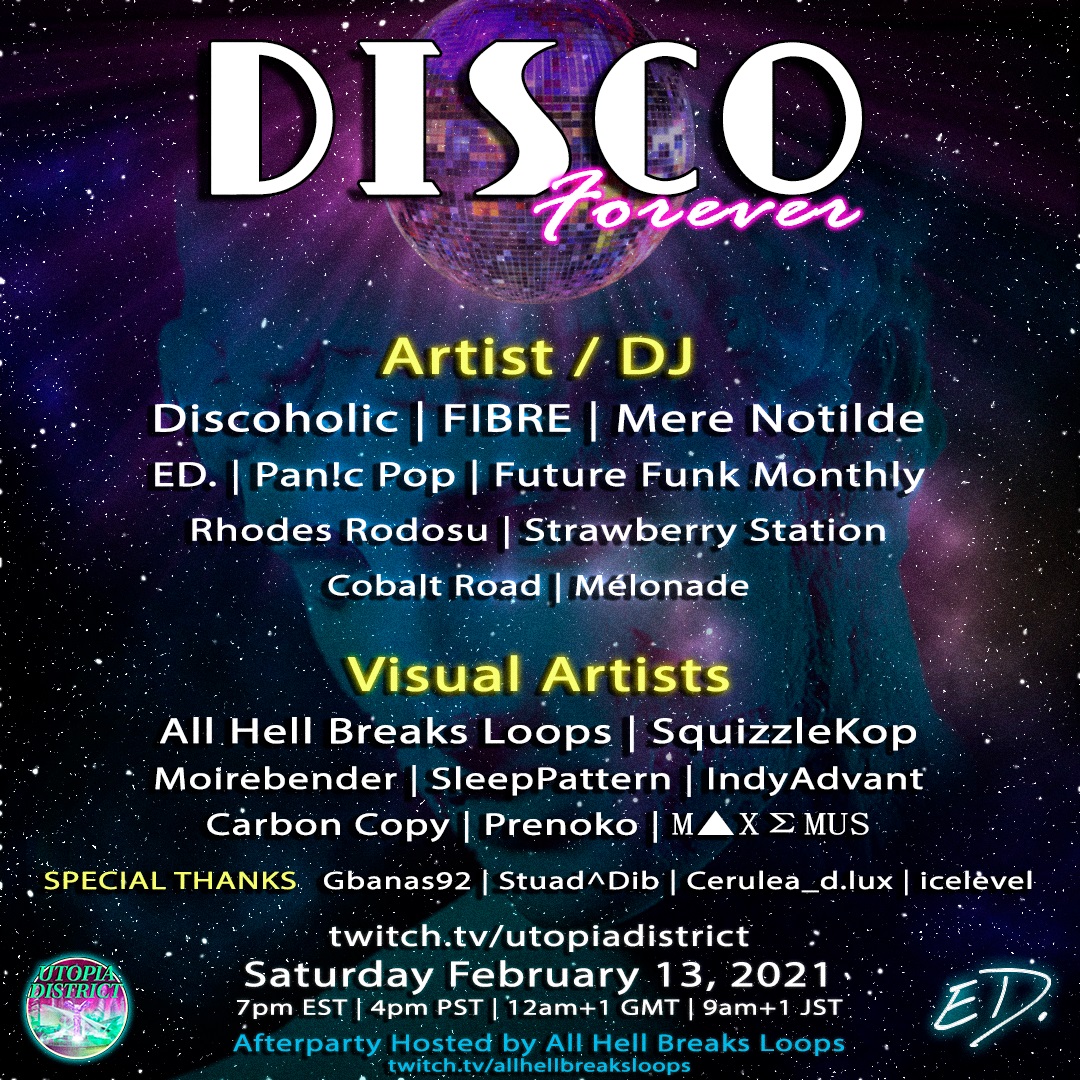 Utopia District Podcast
Episode 003
Disco Meets Vaporwave, Forever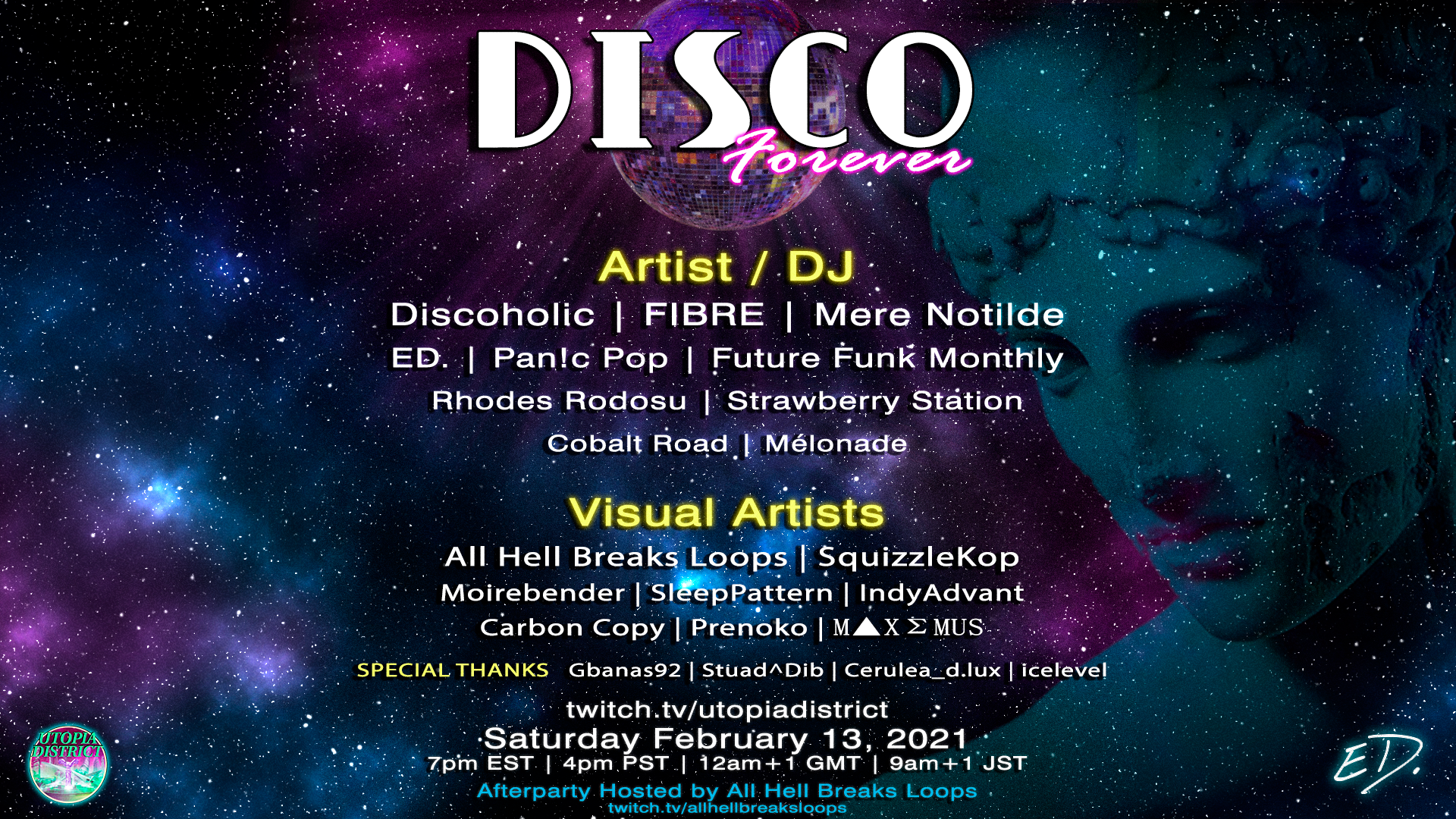 You have arrived at Utopia District, the premiere destination for vaporwave, future funk, and internet music, art, culture, and community!
Please visit our website for full details: https://utopiadistrict.com
Welcome, and please enjoy your stay!
DISCO FOREVER!
When Future Funk meets Vaporwave!
We are backstage at Disco Forever, a livestreaming future funk and vaporwave URL event, streaming on Twitch on February 13th 2021, presented by Utopia District & ED., with some of the hottest musicians and visual artists in the game! Featuring unique 'director' commentary on the delightfully unexpected results of the matching of vaporwave visuals to dancy vibes.
We are thrilled to sit down with Discoholic, FIBRE, Mere, ED., Pan!c Pop, Cobalt Road, SleepPattern, All Hell Breaks Loops, Nicoquota, Gbanas92, Prenoko, SquizzkleKop, and Moirebender! Join us as we take you behind the scenes into the green room of Disco Forever and discuss the nitty gritty behind the event, production intricacies, performance stories, and a whole heap of laughter along the way.
Check out the full Disco Forever event details, our artist and musician profiles and more on our event page:https://utopiadistrict.com/events/discoforever
Watch the full event and individual sets, here:


Episode Links:
https://discoholic.neocities.org
ED's New Album/Tape "Forever"
aphantasia 2000
Discoholic's biggest fan
Montaime
Vaporspace Online
Late Night Lights Festival
Flamingo Fest 2021
Aqua Fina
Guests On This Episode:
ED.
https://twitter.com/ElektricDreams_
Discoholic
https://twitter.com/discoholicmusic
FIBRE
https://twitter.com/fibrealex
Gbanas92
https://twitter.com/gbm_games
Cobalt Road
https://twitter.com/cobalt_road
Mere Notilde
https://twitter.com/MereNoTilde
SleepPattern
https://twitter.com/SleepPattern_AV
Prenoko
https://twitter.com/_Prenoko
SquizzleKop
https://twitter.com/SquizzleKop
Moirebender
https://twitter.com/moirebender1
Strawberry Station
https://twitter.com/StrawberryStat1
All Hell Breaks Loops
https://twitter.com/AHBLmusic
Nicoquota
https://twitter.com/nicoquota
Music Played In This Episode:
Mélonade – Hear What They Say
Cobalt Road – Can't You See
Strawberry Station – Time To Myself
Madeon – All My Friends (Rhodes Rodosu Remix)
Pan!c Pop – !T Out (feat. Sixtroke)
ED. – Here I Am
Mere – Sweet Baby
FIBRE – Virtual World
Discoholic – Discoholic's Anonymous
Utopia District
Website | Twitter | Facebook | Instagram | Twitch | YouTube
IndyAdvant
Twitter | Instagram | YouTube | Facebook
Follow us on your favorite podcast platform!
Spotify | Google Podcasts | Apple Podcasts | Stitcher | Listen Notes | TuneIn | Deezer | iHeartRadio | RSS