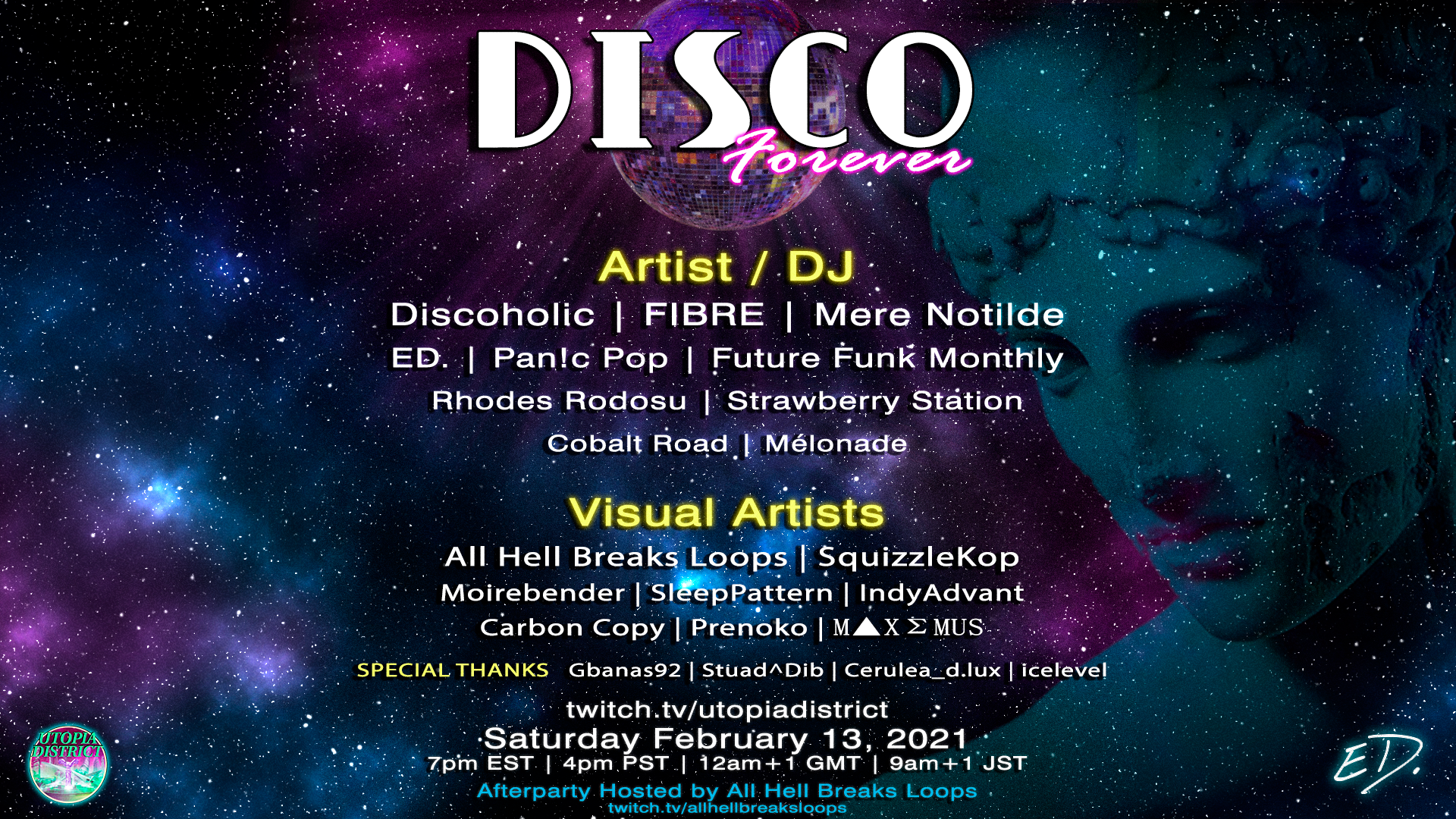 Rhodes Rodosu
Living and working in Mexico, Rhodes Rodosu has been putting out infectiously dance-able future funk singles and compilations with their signature chopping technique since 2016. Rather than define themselves by a single genre, though, they've also recently branched out with their latest self-released EP Aeris, full of sample-free compositions. Whatever the style, you can be sure their music will get you moving.
Bandcamp | Twitter | Soundcloud | YouTube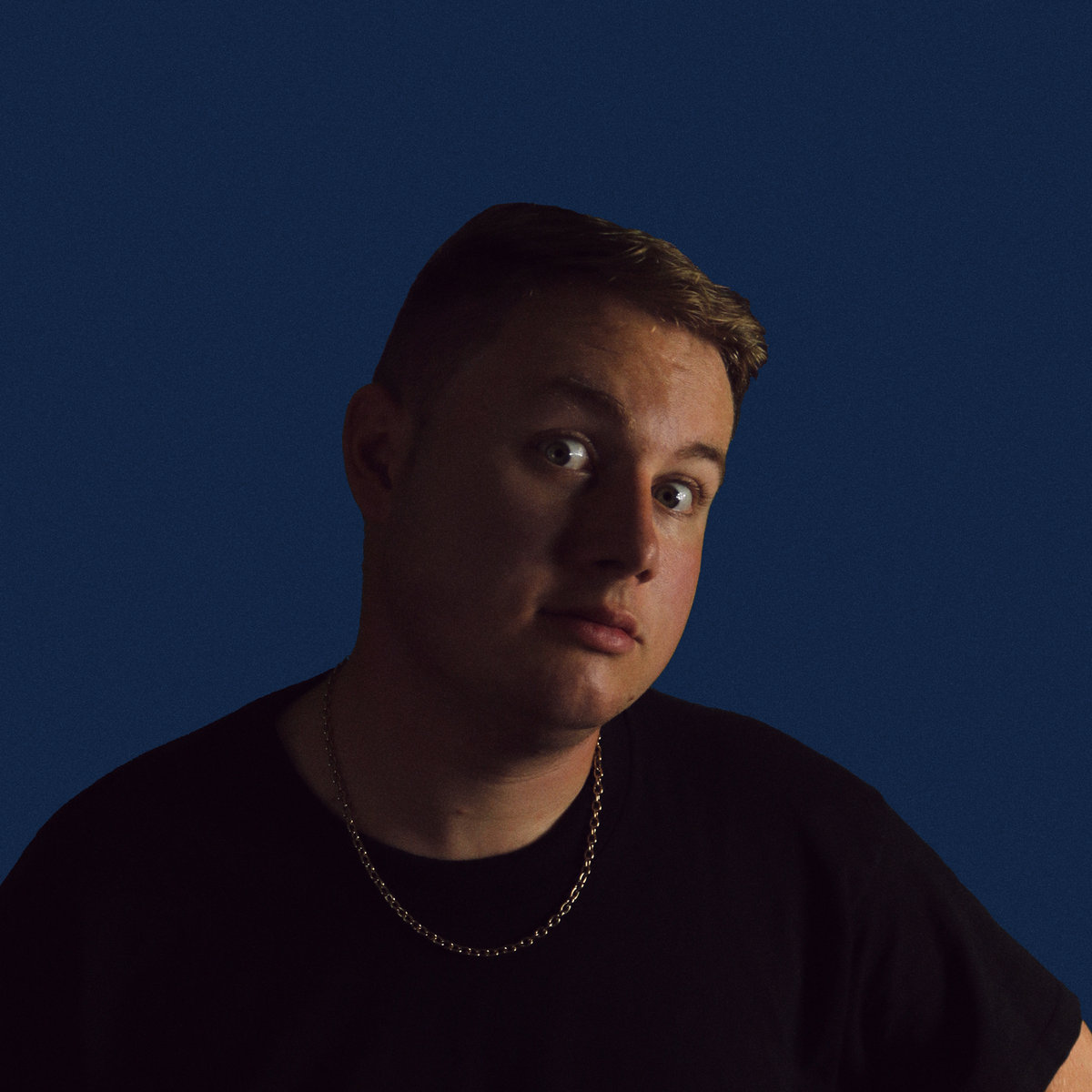 Cobalt Road
Though they started out with a focus on vaportrap in 2015, Cobalt Road has since evolved into an accomplished future funk and disco producer in the intervening years, appearing on labels like DMT Tapes FL, Business Casual, and Montaime Records. From their home in Orlando, Florida, they appeared in some of 2020's biggest live events, such as We <3 DMT and WAVEPOOL. With plans to showcase all new music for Disco Forever, it's clear that the best is yet to come.
Bandcamp | Twitter | Soundcloud | Facebook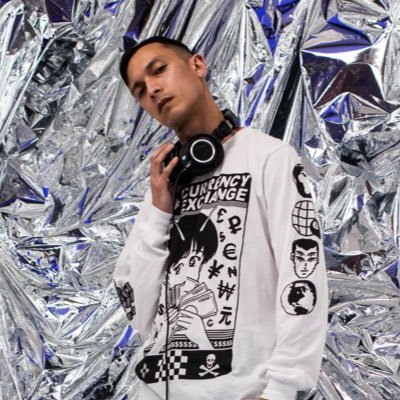 AFTER PARTY with
All Hell Breaks Loops!

Catch us as we raid All Hell Breaks Loops' Twitch channel around 12:30PM EST on Satuday. He'll be offering up some excellent visual material to be sure! Follow on Twitch below! He's also open for commissions at the below email. allhellbreaksloops@gmail.com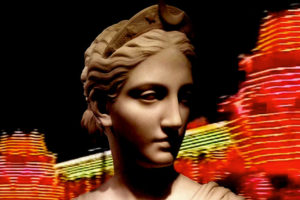 ED.
Music producer, co-founder of the Skyline Collective, and co-presenter of Disco Forever, ED. (also known as Elektric Dreams) is a well known figure in future funk. Hailing from Miami, Florida, ED. has been dropping fresh tunes since 2015, and their latest album Enter The Night released on My Pet Flamingo in mid 2020. They've also inspired countless others to begin their musical journey by sharing their wealth of knowledge and experience with the community via a sizable number of video tutorials on YouTube.
GBANAS92
After ravenously listening to as much vaporwave as he possibly could for years, gbanas92 eventually decided to do something with all that passion, contributing a number of articles to Private Suite Magazine before its unfortunate closure.
This led to his joining up with the Utopia District team, to continue to writing about vaporwave about as much as humanly possible. Reviews, news, and anything in between. When he's not listening to vaporwave, something that happens admittedly rarely, he is probably playing PlayStation way more than he should. Either that or watching hockey.
ALL HELL BREAKS LOOPS
3D Artist, video artist, and DJ. All Hell Breaks Loops is quickly gaining a reputation for the best vaporwave afterparties and livestreams around. Time and again raising the bar in the vapor visuals community! They have worked with countless vaporwave and future funk artists bringing their music to life through the visual medium: Sound Market, Tupperwave, and Saint Pepsi
They are also the resident VJ at Pacific Plaza Records' VIRTUAL MEMORY events, and host their own Twitch channel you should definitely check out.
Booking/commissions are open! allhellbreaksloops@gmail.com
CERULEA_D.LUX
Creator and collector of vaporwave artifacts; formerly lead editor at Private Suite Magazine; editor, writer, & admin at Utopia District and Arcology Online. On a mission to drift and compile across the wide and deep wave.
A netizen since Web 1.0, cerulea_d.lux seeks to illuminate all the corners of vaporwave and bring its treasures and their creators into the spotlight. As a long time fan of all things chill, utopian, and lo-fi, they proudly lend their support to Utopia District in bringing Disco Forever to life.
icelevel
An experienced DJ and future funk enthusiast, icelevel's passion for obscure music knows no bounds! A new member of the team, he has opted to leverage that passion into managing Utopia District's social media. And he even chips in some writing with the occasional review.
ED.
Future funk and vaporwave producer.
Co-Founder of The Skyline Collective.
UTOPIA DISTRICT
Vaporwave Community Project