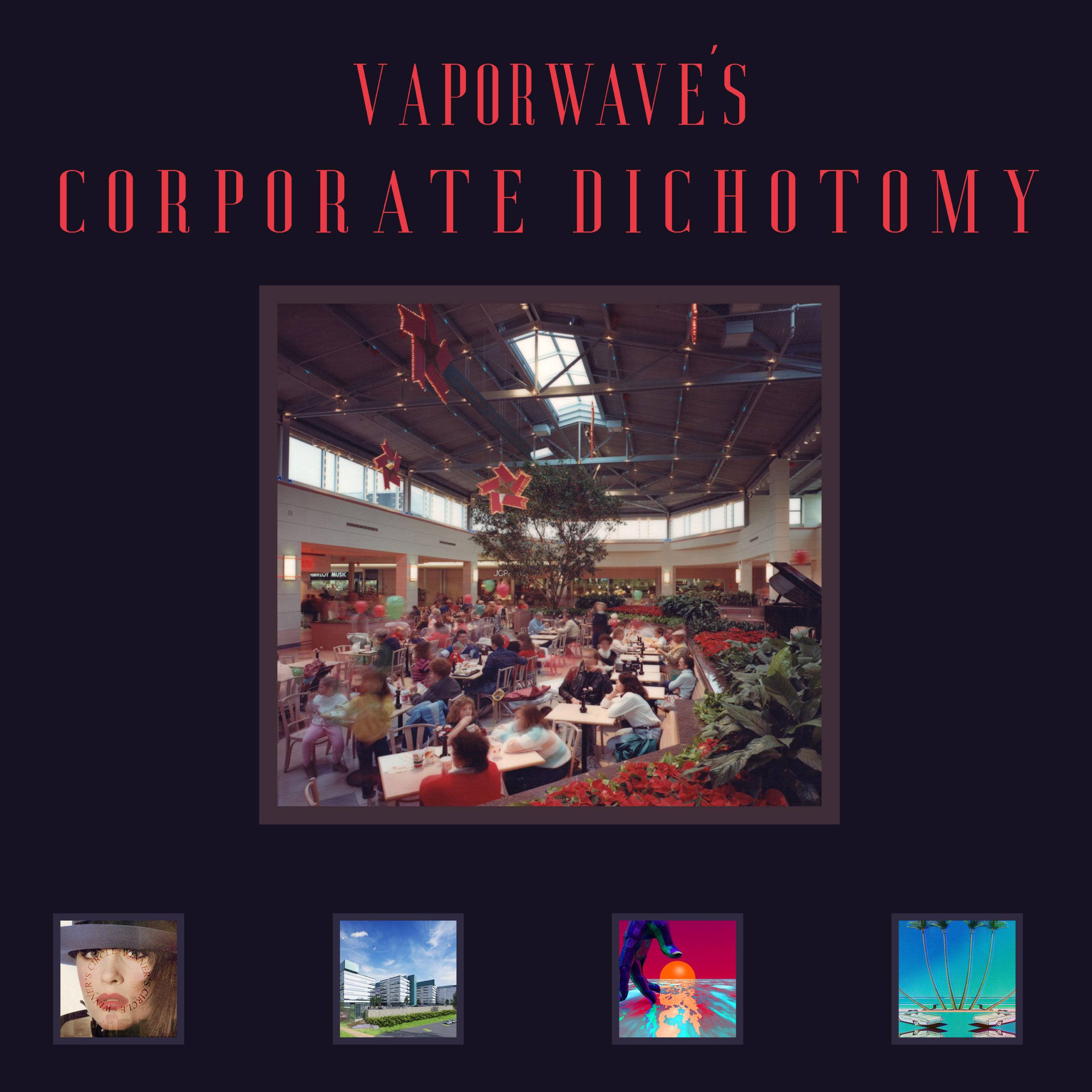 Feature
Vaporwave's Corporate Dichotomy
Written By: Billy Bugara
Published on

March 29th, 2022
Please note, this piece was originally conceived back in 2019, and as such, may offer different representations of some corners of the scene than would be applicable today.
PART 1: Introduction
When it comes to defining the most finite sentiments that vaporwave has offered on a consistent basis throughout its now decade-long history, arguably no other concept has been hammered on more prominently than corporate culture. Ever since its inception, this genre obsessed itself with everything that the market world, mega conglomerates, and structural capitalism as a whole have come to represent in the very recent past.
We can claim this "very recent past" as beginning in the 1980s in America with the rest of the world to follow. Factors like high market saturation and resulting economic prosperity enjoyed by the world's richest companies inadvertently produced a telling byproduct: capitalism's intersection with mass media and the deep, dark realms of endless advertising.
With the world presenting this facade of pure wonder under the veils of the economic boom, advertisers capitalized if you will, on the general public's willingness to spend their money and live as carefree a life as they could, with marketing to match this level of wonderment. Because the most fortunate of citizens had the financial means to do so, they let themselves fall under a spell of blissful ignorance as they flocked to new and exciting paradises dubbed "shopping malls." Here, they could add to their already growing and mood-reflecting wardrobe of saturating colors and patterns.
These consumers expressed this sense of materialistic bliss through happy-go-lucky pop tunes full of synthesizers and blasting drums, two facets that perfectly complemented all the fun they were having with their perceived sense of safety, sustenance, and self-worth. It was as if even the worst parts of the Cold War era had no effect on the next day. These negative aspects only existed for a second in their minds, because they would just move on the next day and keep living what can only be described as "a life worth celebrating." It was truly a period in the history of display media that comes off as spotless in every single way — marking a continuous, pristine image of advertising day by day to naive consumers. It was an era that's easy to desire living through if you hadn't, and just as easy to desperately want to return to if you had.
This period, of course, led us to where we are today. In this modern world that is so far off from those seemingly gleeful and almost too-perfect times, we as consumers are left with the remains of an era lost to the inevitable realization that maybe capitalism isn't as functional, ideal, or sustainable as it once portrayed itself through the lens of advertisements.
This moment right here… this is where the tenets of vaporwave first start to crystallize. Those perceived pleasures through the eyes of mass media we were talking about? They were exactly that: perceptions. Two separate, yet balanced sides to this vaporwave coin. They each provide vivid pictures of how this genre tackles the concept of corporate hypocrisies.
Vaporwave has and always will retain an essence of corporate life. The word itself is derived from the concept of "vaporware," technologies that were (often deliberately) advertised but never officially brought to market. It's a genre that reflects the general resentment of those who promise extravagant products with no intention to actually create or deliver. It also exudes this sense of high class or a luxurious standard of living through its audio aspects, its imagery, and its overall narrative as a whole.
But therein lies the central question: does this genre lean more towards a pure celebration of this time, or an endless, despondent critique of it? The answer certainly isn't clear, and it actually raises the following question: does a true answer even exist at all?
We may never learn these illustrious truths unless we look back to how we've reached this point in the ten-plus years that vaporwave has existed. With that, an exploration of the confounding history of "vaporwave's corporate dichotomy" is all-too-necessary.
PART 2: Have A Little Faith
Perhaps the easiest way of analyzing this underlying notion within vaporwave is to dissect its seemingly infinite facets. As it stands in this present analysis, that would mean looking back and aligning which subgenres of vaporwave best fit the mold of both the positive and negative commentaries on the state of capitalism.
Again, it must be reiterated that these two sides are genuinely equal in their weight on the genre. As remarkable as it may seem, each perspective has been taken on and given as much runtime and artistic dedication as the other, which effectively cements this case as wholly unique and practically exclusive to this genre. But to move away from obsessing over this exposition, let's start on the brighter side of this disunion and take a look at the subgenres that see corporate culture in the most laudatory of lights.
Arguably the most clear-cut, obvious, yet exceptionally necessary depiction of this sentiment is found in the realm of future funk. This genre, in essence, embodies all things characteristic of grander society's collective mood, mindset, and overall state of being under the shroud of capitalism — a state of being that can only be described as pure and utter ignorance. Using the word "ignorance" here may entail some sort of negative connotation in one's mind, but just as vaporwave as a whole struggles to hold a stable overtone on certain terms, so too does future funk in this case.
Rather than accepting that negative connotation, future funk takes its positive aspects and ramps them up to an all-too-vivid and exhilaratingly joyous degree. From its visuals right down to the music itself, the genre is the most ideal soundtrack for an "ignorant" society. It's the sound of citizens cohesively ignoring any and all bad things around them and relishing in the bright and happy material world that is presented to them, whether virtual or not. They are relishing in the moment.
The genre's sonics reflect this notion extremely well due to a myriad of signature aspects that vapor-listeners know all too well at this point. Take for instance its instrumental components — those pounding kick drums and glistening synths that are meant to engulf the listener with a sense of energy and wonder at the same time. Draped atop those components are often repeating riffs of insignificant vocal passages that are only meant to aid the mood of the song rather than capture any thematic or meaningful sentiment.
Two central factors in enjoying future funk are how the music feels to the listener, and how the visuals portray what is being heard. These striking scenes of busy city life during the day and night alike — they evoke that sentiment so powerfully because, well, who cares about thinking deep when you're having so much fun and living in that aforementioned moment?
That idea is exactly how future funk takes this sense of ignorance and puts the most blissful of spins on it. It recognizes that living under this corporate umbrella can be undeniably hectic, yet so intoxicating at the same time — so why not revel in its wonderment? Why not take on this fast-paced, capitalistic lifestyle with music that matches its velocity?
Well if it isn't obvious enough already, you begin to fall deeper and deeper down this path of ignorance the more you accept the "right" answers to these questions while experiencing this genre. It gets to a point where there has to be something more to this life than what's being presented to us at that moment — something festering behind this endless stream of commercials and city life.
Believe it or not, these speculations couldn't be more valid; there exists an entire subgenre that embraces these corporate cues just as openly as future funk does, but in a far more restrained sense.
PART 3: Utilize Your Impact
Here we arrive at "utopian virtual," the vaporwave genre with a whole different way to express its love for the corporate world. But unlike future funk, utopian virtual sees its ideals falling more within the realms of acceptance and admission of the capitalistic mindset rather than blissfully living amongst its luxuries. This genre takes the everyday world for what it is, and instead of feeding into any sort of critical vitriol for all of its most negative features, it presents a counter-mindset to what is perceived as evil by the loudest of critics.
Arguably the two biggest themes that this genre calls its own are "recognition" and "compliance."
"Recognition" in the sense that it calls upon society to recognize that the world will never see its oversaturated fixation on advertisements and collective branding go away. Because if anything, it is only going to become stronger and even more all-encompassing. And "compliance" in the sense that instead of putting up a fight against this environment as it stands (and will continue to stand,) it is more optimal to celebrate this culture and engulf ourselves in its admittedly endless benefits.
It presents an all-too-realistic depiction of an ordinary 9-5 workday, where one's biggest rewards are a coffee from Starbucks in the morning, an efficient and productive day at the office in the afternoon, and a McDonald's dinner for the entire family to enjoy. All in a day's work — now do it all again tomorrow.
This mundane and unexciting style of life is presented through the most complimentary light possible, with the genre focused on making every single day as impactful and ultra-productive as it possibly can be. You experience this through the texture and environments of the music; jaunty and subdued sonic passages that often incorporate the sounds of office life, mobile devices, or your typical quick stop at the local fast-food restaurant during break time. The music itself inspires this rat-race style of motivation through oval sentiments that almost hypnotically coax you to get as much work done as possible in order to adhere to that necessity for capital, for endless quarterly growth, that necessity to succeed, that necessity to keep living…
The fact that the genre can present this daily routine with such positivity and idealism is arguably its most fascinating feature, and one that is made even more fascinating when juxtaposed against the openly detracting genres that see this world just as vividly, but under a completely opposing viewpoint. This concept of needing to succeed and keep living at the hands of capitalism just doesn't appear to be the most accurate depiction of reality. A third dimension must exist — one rooted in tragic realism.
PART 4: No Love No Money
Tackling the other side of this coin is quite a bit more depressing and disheartening. Especially so when considering the light-hearted and apparently perfect world that both future funk and utopian virtual create. But it is a side that deserves just as much consideration and, like it or not, has just as much weight on the realities of the world we live in today as its counterpart. The vaporwave antithesis to all things great in the corporate world can be most prominently found in the subgenres like "faux-utopian" and others akin to it.
Subgenres like this have aroused the ire of some in the vaporwave community for various reasons. They criticize them for being too broad and loosely defined as a whole, for example. Despite this, their collective sound and thematic elements are enough to serve as the best example of how we reject corporate culture. Even as we embrace or resign ourselves to this very culture, the same fact remains true. Whereas future funk and utopian virtual paint a world full of optimism, gleefulness, and sincerity, this area of vaporwave sees that same world and completely indulges in nearly every single mishap, failure, and resulting catastrophe that has occurred at the hands of capitalism since its once-unquestioned era.
It obsesses over the themes of lost love, lost passion, and a lost sense of being. And instead of blaming anything else for these things, it berates those who have made this world so empty for them from their point of view: the untouchable, the invincible, the ones with all the power, the ones with capital. No better word describes this viewpoint and corresponding feeling than "emptiness" as it is, and in doing so, it also best represents the meeting of this style's themes and musicality as well.
This style goes completely against the tight, controlled, and easily accessible compositions that the other two genres have to offer. It mirrors its unquestionably seclusive motifs with either long and drawn out passages of pure aura and atmosphere, or through a deconstruction of those previously mentioned positive elements. All of these aspects combine to illustrate an intentionally distasteful and unsettling commentary. That distaste falls back on the concept of recognition as described before. Instead of recognizing the positive perceptions of the corporate world, this genre recognizes every single negative facet that comes about as a result of feeding into that "ignorant" mindset.
This despair is completely rational, it is nothing that is extrinsically fabricated. And yet, the other side is just as real too. Somehow, someway, vaporwave was able to take a completely divisive concept and intensify its highest highs and lowest lows within two entirely separate visual, audio, and thematic styles respectively.
Because these two contrasting viewpoints are emphasized to their most radical and almost unattainable degrees, we really cannot come up with an answer to our central question: whether we show more love or hate for the corporate world. Perhaps the only way we could come up with something is to enter the intersection between the two — a single instance of vaporwave that, in itself, depicts both points of view in its wake. To do this, we must enter the hub of all things corporate. We must enter the mall.
PART 5: Good Buy
No place, no setting, no structure, better represents both contrasting sides of vaporwave's fixation with the corporate world than what can only be described as the pinnacle of consumer culture. The shopping mall is without question the defining mark for this dichotomy; it represents the themes, spirit, and general reasoning of both sides of this struggle in full. Of course, vaporwave's obsession with the concept of the mall revolves primarily around its corresponding medium of artistic translation: the ever-popular subgenre of mallsoft.
Mallsoft takes the visuals, audio, and feelings of this physically and psychologically massive structure and places them in various, distinct situations. While some reflect a sincere enjoyment of consumer culture and the participation in the capitalist lifestyle, others choose to present a state of abandonment, lost hope, and decay as a result of that glittering world's economic changes and proceeding failures. These two perspectives blatantly portray our conflict from each side, and the reason it's so significant that the genre can accomplish this is that it allows for a narrative to be constructed.
Through experiencing mallsoft, we can visually see the history of how we got to this point, and as a result of this, we can better identify why each side of this debate conveys the respective themes as they do. Take the journey from the whimsical nostalgia heard on an album like Disconscious' Hologram Plaza, and follow it up with a desolate wasteland of a listen like Hantasi's Vacant Places. That chronology is illustrated artfully. We can feel sympathy for those that want to live in a wholly perfect world where one's only worry is if they'll be able to get all the products they want by the time the mall closes.
At the same time, we can also better understand the reasons this mindset led to such peril and despair via the sheer decay of these malls in the subsequent years. That depressing aura you feel when listening to any particular project that indulges in the dreadful world of deterioration, disintegration, and corrosion that most malls have succumbed to is felt as sharply as can be.
But back on the other side, there still exists a fleeting hope to return to a time that, for the most part, has been completely erased from history… all except for the undemolished remains of these abandoned structures. That's why the idea of the mallsoft narrative works so well: it presents each viewpoint as if a story is being told, and a true story at that. In doing so, it gives us a partially conclusive answer to this subject as it stands.
PART 6: Conclusion
Okay, so maybe our central question hasn't been directly answered, but that does not mean we're without any form of resolution. Through the intersecting viewpoints provided by the pure narrative essence of mallsoft, we can reasonably claim that vaporwave perhaps should not strive for a collective agreement on the state of corporate culture, but should simply draw their own interpretations on it based off of admiring both the historic and contemporary state of the world.
In doing so, we are able to acquire evidence as to why we might adore the capitalistic world of the past, or despise the state it is in right now. Both perspectives, if it hasn't been said enough, do have equal weight, especially through the lens of vaporwave. And that just proves that this genre does more than the average style of music, art, or any other form of expression as a whole when it comes to redefining what it means to historicize and conceptualize certain facets of society in a completely nuanced way.
Only vaporwave could ever accomplish this, and we have to give it credit for that. Coming to these stark realizations serves to reiterate the following points: there are no right answers in this genre, no single way of thinking, and no collective agreements.
The corporate world will always exist, and though its form may change in both positive and negative ways, vaporwave will always be there to present the most realistic takeaways from these changes in our current day and age.
Written By:

Copy Editing By: Cerulea_d.lux