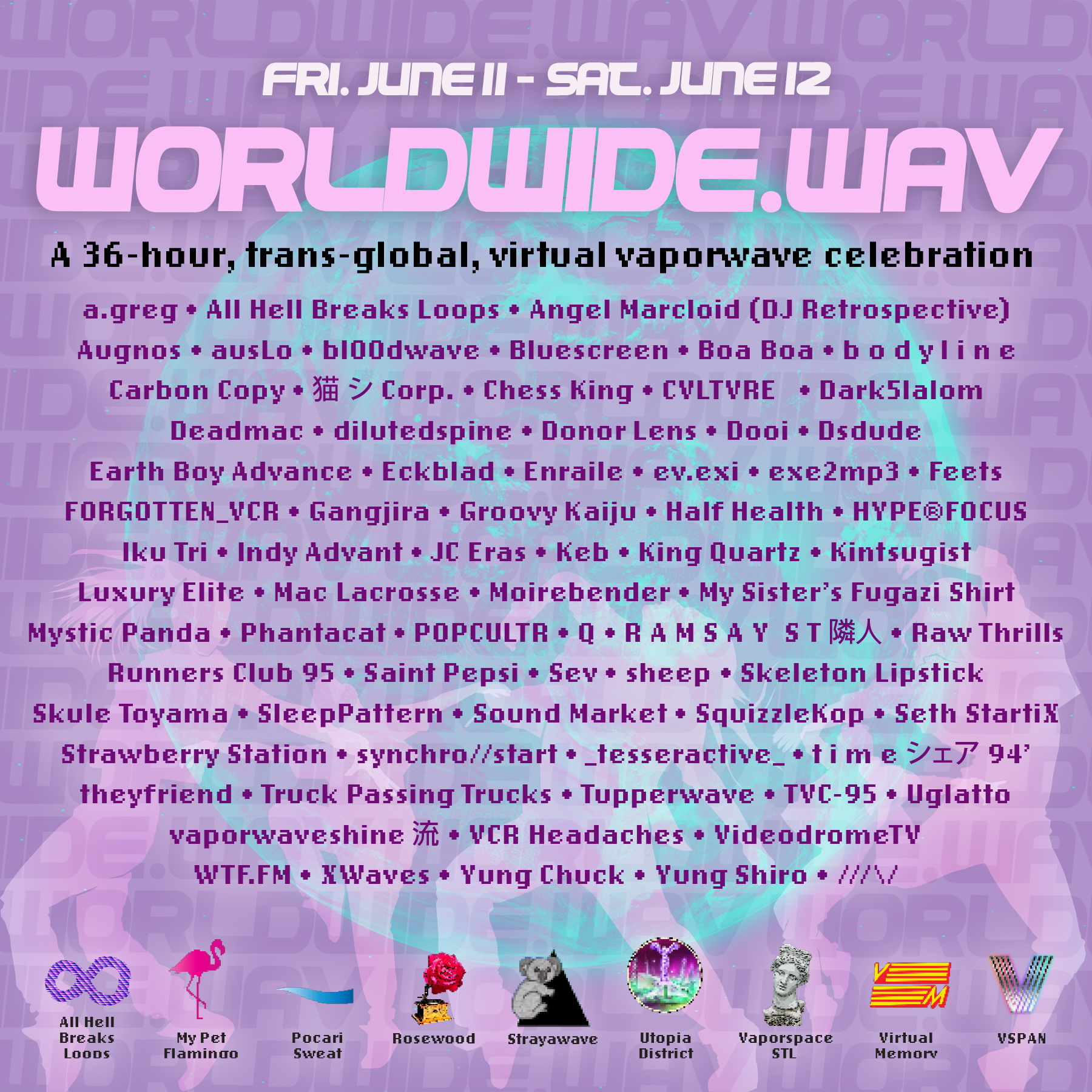 Feature
What A Global Pandemic Taught A
Net-Based Music Community
Written By: Gbanas92 & IndyAdvant
Published on

June 12, 2021
Online COMMUNITIES SHIFTED BY A GLOBAL PANDEMIC: A LOOK AT ART MOVEMENT RESILIENCY & ADAPTABILITY THROUGH THE LENS OF VAPORWAVE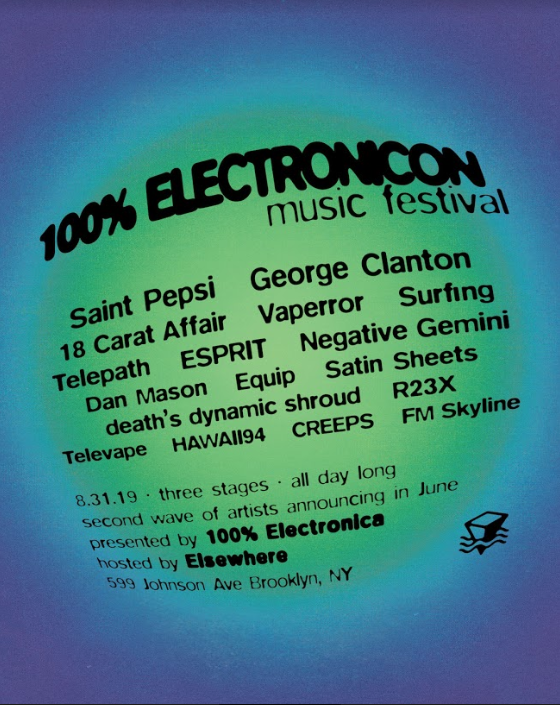 When the curtains closed on ElectroniCON & ElectroniCON 2, there was a promise of something more, something greater. Where was the scene headed? What was next on the docket? We as a community had made such extraordinary strides in so short a period of time, the next months and years were cause for excitement. Anticipation. And then the world ground to a halt. An entire planet in lockdown, with nowhere to go.
Some industries were able to weather the pandemic rather well, such as online retailers like Amazon. Others – like the movie industry – had a lot of problems to contend with, and very few solutions. How do you justify spending so much money to make films when your fledgling streaming platforms don't stand a chance of recouping the loss? Some, like Warner, bit the bullet and chose to release their films through HBO Max. But this wasn't a solution, merely an answer. This problem didn't stop with cinema, though. How would the music industry, through which most artists make their living through touring, cope? While there was no shortage of creative solutions — major bands like Muse or Between the Buried and Me chose to take this time overhauling classic albums, providing brilliant new mixes- one of the fastest responses and most logical solutions came from…vaporwave. Online concerts sprang up rather quickly, and a movement that formed almost entirely on the internet had to return once more to that which gave life to it. So what were the takeaways from these last nightmarish months? What did we learn? What's next?
PART 1: Return To Sender

In a way, vaporwave being forced from the real world back onto the internet was a homecoming. Starting in small groups on forums or Facebook, the vaporwave community, while very much niche, is tight-knit and passionate. Coming off of the crescendo provided by the aforementioned ElectroniCON's, these myriad friendships that started digitally before pivoting to the real world were unceremoniously shoved back into a virtual space.
It would have been perfectly understandable for many labels or artists, or even fans to just throw their hands up in defeat, and hope that the community could weather the pandemic, coming out unscathed. But many in the scene had the incredible idea of just taking what we could from the in-person events and adapting them to the internet. What if we could still gather and come together as a community across the globe to see our favorite artists perform? What would that look like? Well, we didn't have to wait long to find out.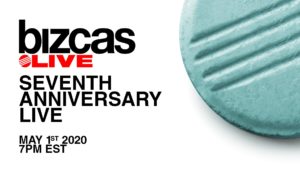 Barely a month after the lockdown orders began for many in North America (around February 2020) we saw Syncup.World in collaboration with SPF420. Featuring Cash Wednesday (a Skylar Spence project), March 28th would mark the real opening of floodgates for the months ahead. Just two days later, Pacific Plaza Records would seamlessly pivot the Virtual Memory series to an online presentation with the sixth entry, alongside All Hell Breaks Loops. The good news is the series recently celebrated its twenty-fifth entry on May 30th! So this shift to online has been a success, to put it mildly. Here's to twenty-five more!
While it took a little bit of time for the community to really get used to the idea of "attending live shows" on Twitch or YouTube, the relatively short period of downtime for vaporwave meant that things picked right back up again. As May 2020 rolled around, the community was present with an absolute deluge of events to choose from. First up was the 7th Anniversary Show for Business Casual on May 1st. Featuring sets from nanoshrine and Diskette Park among others, such a monumental event was quite the way to kick off the summer festivities. Shows in the month of May weren't anywhere near finished either, as the end of the month brought the weekend spanning Pure Life Festival as well as Vaporspace Online, which raised $5,000 for charity.
And these events carried on for months and months, all the way up to now. Since the lockdown, it's been nigh impossible to go more than a month without an incredible event. To just cherry pick a few, we had We Love DMT <3, a show of support for Vito, one of the most dedicated and important members of the community (featuring the likes of 猫 シ Corp., Dan Mason, and Bodyline) in July of 2020. Or how about Vapor95 Live 5.0 in February of 2021, which featured names like Lola Disco and desert sand feels warm at night. While many of the shows were smaller in scope, with only a handful of artists, some events swung for the fences with massive lineups that spanned multiple days. Like Late Night Lights, the lofi event (which Utopia District hosted and was heavily involved with alongside Gorgeous Lights) featuring luxury elite, telepath, and Hantasi to name just a few.
Part 2: Notches In The Toolbelt
Why was this transition so seemingly easy for vaporwave? There are a number of reasons. Saying the scene started online is only a surface level analysis. There was also the opportunity to learn and grow. And grow we did; as the number of online shows expanded, so too did the quality. Many artists were provided the opportunity to take their real-world applications in the music scene, and convert them into an online space. Skeleton Lipstick for example had previously thrown the Terminally Chill vaporwave dance parties in Philadelphia. This prior experience with live events carries with it a certain know-how for magnetizing a community towards an event. That remains a useful skill when things pivot to an online community, as people still need to know where to go, right?
One big thing that certainly helps is the "hobbyist" nature of the community. Many of the musicians or visual artists (though of course not all) don't involve themselves in vaporwave as a career, it's more often a secondary (or tertiary) form of income, and generally more of a hobby. This was beneficial because not only did it mean many members of the scene were able to approach many different facets of putting on a show themselves, but there was also less red tape to contend with. With fewer hands in the cookie jar, the process of getting a show off and running could sometimes be as simple as asking.
But another major strength of our community is passion. Most folks involved in vaporwave do so from a place of love. There's an indescribably passionate fan base built into this community, one built (shocking though it may be for an online group) on positive reinforcement and love. By the nature of vaporwave coming from a place of love, many of the shows were free. Which bears mention, as both showrunners and artists foregoing a fee for the sake of the community is…extraordinary. These events being passion projects meant the musicians and visual artists, and behind-the-scenes folks generally did everything for free, because if they didn't, who would?
This passion covered every facet of the concert experience. These online shows were filling in for the opportunity to actually be at a show, so that created many conundrums that might not be immediately thought of. For instance, how do you make a stand in for a live venue? If you're not really going somewhere, that doesn't mean you can't go anywhere. This is where some fantastic solutions show up. The long-gestating game Second Life plays a key role in helping those who want to have as close to a real concert experience as they can. You can take your in-game avatars to a club or two and enjoy the show in this venue, dancing to your heart's content, talking to people, and everything in between. Sure, it's a facsimile, but it's a very creative one, and it offers some heightened sense of camaraderie. Why not head to Betamax, the brilliant vaporwave venue helmed by SNWCRSH (a friend of the site!). Or Ramb.ly! (Created by FoxBarrington)
Part 3: What's In It For Me?
This passion and desire to put on these shows is all well and good, but what's the point of it been? What did it do? The answer's not all that dissimilar actually. Passion yet again rears its head, coming to the forefront. This tight knit community had come to appreciate and desire more of these events, but with the lockdown we had to find new ways to come together.
So at its most basic, continuing to put these events on allowed the community to continue expanding. More artists hopped on and performed, including some artists that might otherwise not have had the opportunity to do so: DATAGIRL, Skule Toyama, Donor Lens, TUPPERWAVE, bl00dwave, Seabaud, or Ducat to name but a few. With this global genre it can be hard to travel the globe for a show. Plus the presence of these vaporwave shows in the live streaming community get more eyes on them than otherwise might be the case. Those who might normally have skipped past or had no interest in seeing a vaporwave show in person, might tune into a broadcast and find that they were previously unaware of how much they loved the scene. That's all it takes. One fortuitously timed moment, and you have another passionate newcomer feeling their way through this sprawling, ever-evolving scene. Besides, we've established this community is a driven one, and it's even easier to simply click on a link to enjoy a show than fly or drive somewhere.
Plus the DIY nature of much of vaporwave means the barrier of entry tends to be lower. It's more tied to your work drive and how motivated or interested you are in making something happen. And the online shows amidst that lockdown lowered those restrictions even more, as you no longer had to worry about going to a location, carrying gear, and every worry and hassle that go with traditional touring.
These online shows further still helped bring attention to areas that might often be overlooked or merely underappreciated. Thanks to the likes of Pocari Sweat, Skeleton Lipstick, Pacific Plaza Records, and more, themed afterparties joined the fray, allowing these glorious get togethers to linger even longer in everyone's hearts and minds.
The opportunity to revisit shows is another underappreciated benefit. When you go to a live concert, you feel the electric atmosphere, drink in the sights and sounds, and when the show is over, those emotions, while they may linger, will eventually dissipate into nothing. Archives of live shows that include the chat transcripts, allow the moment in time these shows represent to be captured forever, with the same level of electricity and excitement as the moment they were happening. The same reactions, the same fidelity, the same electricity. Sure, you can sift through YouTube and find single songs here and there — captured poorly on someone's phone, as normally the only recordings of high quality are professional ones, which of course cost money. This is yet another facet of vaporwave that is provided for free. The lack of obstacles between consuming and enjoying vaporwave are arguably the smallest they've ever been right now, ironically amidst a massively restrictive pandemic.
This ability to revisit shows also draws attention to one of the great unsung heroes of the live show: the visual artists. Visual artists provide exquisitely executed marriages twixt picture and sound, but for live shows, it's more often than not a one-off. If the music it was crafted to pair with isn't there, it may be an interesting collection of images, but you wouldn't just sit down and watch them in silence. The archived shows remove that problem from the equation, allowing both repeat viewings of visual sets, as well an increased appreciation for them. It takes what might normally be a thankless job (or at least less appreciated than is deserved) and draws much-deserved attention back to it. So let's draw a quick little bit of attention to some of the visual artists whose work caught our eyes during these festivals: VideodromeTV, Sleep Pattern, BootyWizard, Billy Galaxy, Pixel8ter, ///\/, and oh so many more!
Now, not only are these experiences free, they're available in the same high quality as the live debut of the show. You can relive them in a way that you can't with other shows. A live concert — unless the band specifically arranges for it — won't be recorded to the same quality as a pro one. Just random phone camera clips scattered across YouTube. The massive wave of online shows allows concert viewing with regularity and quality rarely, if ever, seen — especially for free.
And then of course, at a very basic level, these events are great examples of "portfolio pieces." The performers, the visual artists, the showrunners, all areas required to make one of these shows happen are pretty impressive things to be able to say you've pulled off. Is it so hard to believe that creating a live event could lead to greater opportunities both within and without?
Part 4: What's Next?
The obvious question to ask next would be "what's the next step?" Where do we go now, amidst a world at long last returning to normalcy?
The answer here and now is Worldwide.wav, happening right now, June 11th and 12th, a culmination of all the lessons we learned from the past year-plus of putting on and attending live shows. A truly global concert event, covering every timezone on the planet and running for an extraordinary 36 hours. We here at Utopia District are hosting a block in collaboration with My Pet Flamingo, representing one of six legs of this trans-global vaporwave celebration.
But what about beyond that? What's the next next step? Well, given how the world is progressing, it seems only natural we return to live shows, no? The real question will be whether we pick up right where we left off, or if things will be more cautious at first. Or is the solution something else entirely? We as a community have made such tremendous strides these past months, it seems only fair we keep moving forward. What dimensions has vaporwave yet to breach? Are these upcoming destinations even in sight? When will we even know? Vaporwave is nothing if not open to experimentation, so it's likely safe to assume that, no matter what comes next, its loving community will be along for the ride.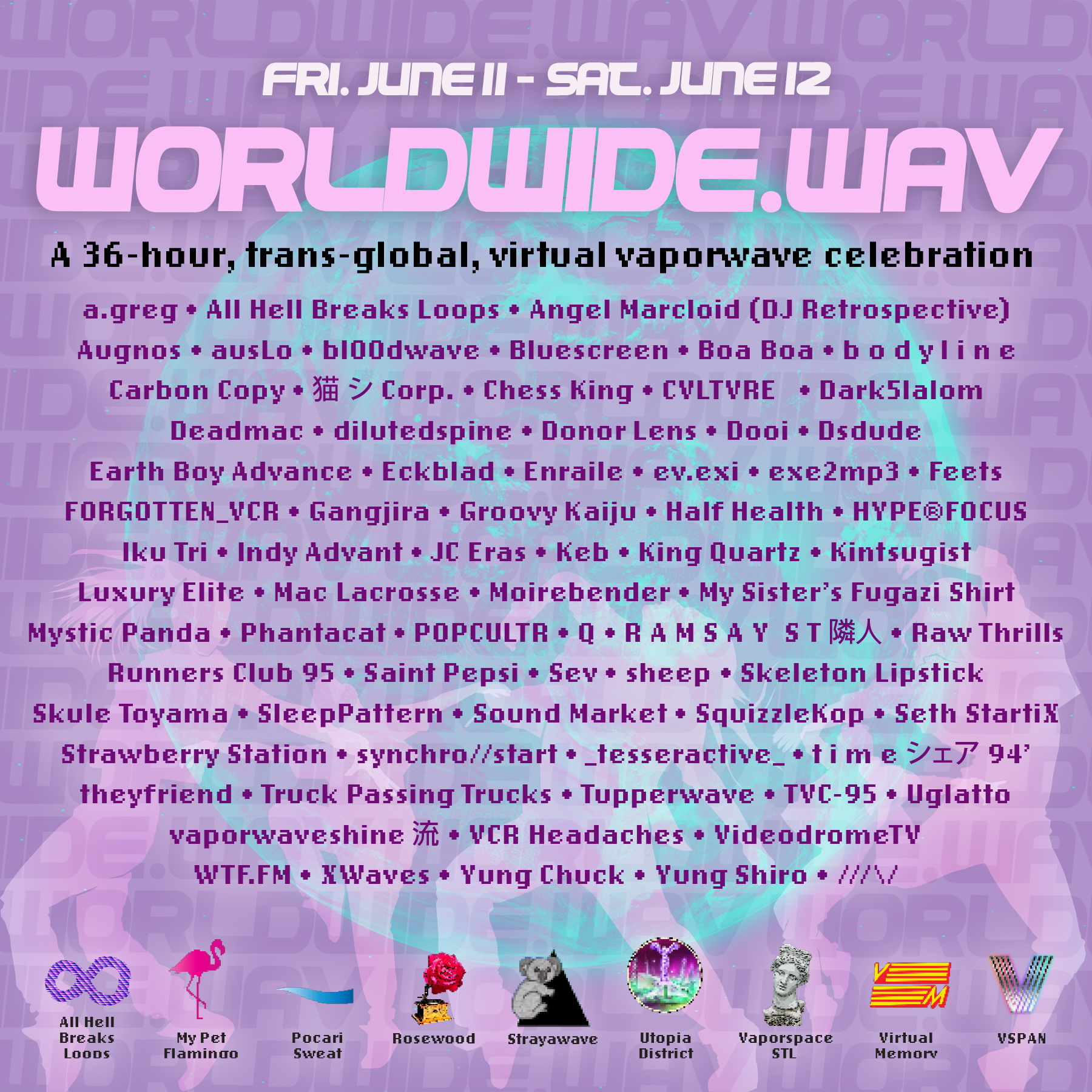 Copy Editing By: Cerulea_d.lux