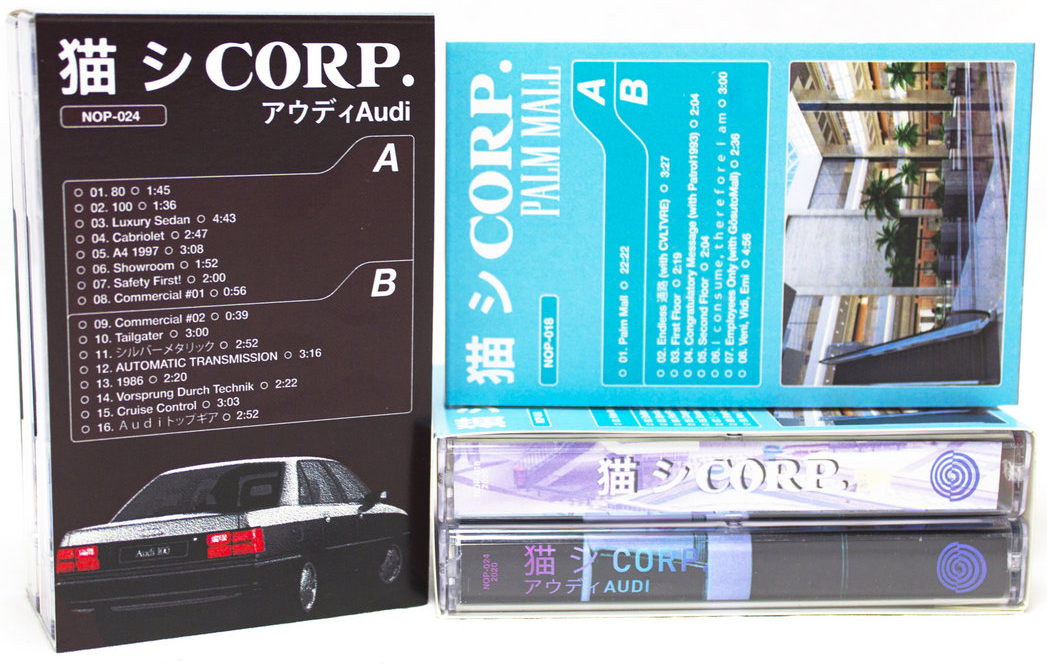 Physical Review
猫 シ Corp. Double Cassette Box: Palm Mall & アウディAudi
Written By: Gbanas92
No Problem Tapes are one of the founding fathers when it comes to physical vaporwave media. Getting started all the way back in 2013, they are the progenitor of such classics as Palm Mall, the Fragmented Memories boxset, and夢の国 —and that's only a few of the nearly two hundred releases they've helped usher through the doors. They also happen to be going through a bit of a tragedy recently, but more on that at the end.
Now synonymous with both mallsoft and vaporwave in general, 猫 シ Corp. is easily one of the most well-known artists in the scene. But once upon a time, that renown wasn't quite as widespread, when No Problema Tapes released a little album called Palm Mall (perhaps you've heard of it?) The original cassette was released back in 2014 and has had numerous reissues through the years: a second 2014 drop, one in 2015, 2016, 2017, and another in 2020.
Each of these had runs ranging wildly in numbers from 25 all the way up to 100. This latest reissue was met with much excitement, not just because it had been several years since the last run, but because it coincided with the re-release of another of 猫 シ Corp.'s No Problem releases; アウディAudi. While not quite as prolific as Palm Mall, this re-release was nonetheless also met with excitement. アウディAudi has released a few times on other labels, but this is the first re-issue since it first dropped back in 2015. As if that weren't enough, it was also revealed that the two would be packaged together with a unique O-Card to unify the set. And it just happens I was able to snag one of those first ones.
After feverishly hitting refresh on my computer for the ten minutes leading up to the tape drop, and making sure all of Paypal information was properly set, I secured one. And just like that, they were all gone. All 50 of the boxsets, and both sets of 100 for each tape individually (there would be a second, slightly larger drop a few weeks later).
It was an exciting moment though. As someone who's absolutely obsessed with mallsoft, Palm Mall is something of a big deal. While I do have it on vinyl thanks to Geometric Lullaby, I really prefer my vaporwave releases on tape if I can help it. So between that and the fact I didn't own アウディAudi in any format, I knew I needed this. And sure enough, when they arrived, they were absolutely immaculate.
Each release has beautiful on-shell printing differing on each side, while the shells themselves are delicate shades of pink for Palm Mall and blue for アウディAudi. The O-Card offers a sleek look at the tracklists before opening the tapes themselves, even if it was a little bit banged up upon opening the package.
The J-Cards are equally gorgeous, offering the album art we all know and love as well a nice little notation of "No Problem Tapes, 2020" beneath each tape's tracklist, helping identify which version they are rather nicely. Each tape is so exquisitely packaged on its own, let alone together, that it's hard not to love them. Of all my 猫 シ Corp. tapes, these are easily my favorites.
Before we dip out, we do want to mention the aforementioned tragedy that No Problem Tapes is currently undergoing. The label's workshop and HQ were burned to the ground in a fire, with steep losses in regards to equipment and supplies. In a really encouraging show of solidarity with the label, many vaporwave outlets have stopped up to donate proceeds from sales to No Problema, and a couple of charities have sprouted up. Many of these are visible on No Problema's own Twitter , and we encourage you to check it out! No Problema Tapes are an essential member of the vaporwave community, and anything anyone can do to help would of course be appreciated!
Written by:
Copy Editing By: Cerulea_d.lux