Album Review
Gaia




By:

Blank Banshee



Written By: C A S I N O
When we think of vaportrap, we all know the first artist that comes to mind. Ever since he emerged on the scene back in 2012, Blank Banshee has reigned over the microgenre with three damn fine albums and is hoping to keep the vaportrap train going with his newest album, Gaia.
The album begins with "Primordial" which gives you a taste of things to come. You are going to hear a lot of familiar sounds on this track if you have listened to Banshee's previous albums, but among these beats lay new, acoustic-styled instrumentation, which hints at the artist taking a step outside of his comfort zone.
The appropriately named "Mind Trap" comes at you next with a fast and thumping rave-like beat, along with some interesting punkish vocals. This one is light on the vapor and heavy on the trap with some heavy pounding, hard thumping beats that are just a tad on the aggressive side for a vaporwave album.
The plucking string acoustics return in "Tetralix" and while it is still undeniably a vaportrap song, they take center stage in this track creating an upbeat and less electronic sounding treat that is rather enjoyable.
The fourth track on the album, "Blue Marble" was a bit all over the place, but in a good way. At one point you are listening to a rather standard trap beat, the next you are hearing some guy go to town on a pair of bongos. All of it though has that Banshee touch to it which acts as a glue to ensure that it sounds like one whole and complete piece of music rather than various parts of different songs haphazardly taped together.
"Green Ray" follows it which was a rather average Blank Banshee track. The track had a great beat, cool electronic sounds, spot on percussion, but all in all was rather plain for the king of vaportrap. What follows is "Teknofossil" and "Mythril", two tracks that are slightly slower in pace, but the instruments on "Teknofossil" did not seem like they ever came together in any way and "Mythril" sounds like it is preparing for a drop that never comes, which leaves the listener wanting.
Things improve with "Chlorine", though — a percussion heavy song, but one that should make fans of his previous albums feel more at home. The fast rhythm of the song goes great with the dubstep-like electronics that are stacked on it, and makes for a fun listen that can still reasonably be called vaporwave.
The album stumbles again with "Aquaduct" which was a strange song, if only for the typewriter sound effect that plays throughout. Usually Blank Banshee is a master of turning mundane sounds into musical genius, but this one simply does not pan out because of how non-musical the inclusion of the typewriter sounds in the song.
Things slow down a bit with "Enso", a relaxing track that borrows sounds from Blank Banshee 1 and is the return of the motivational tape woman from "Visualisation" off Blank Banshee 0, seemingly a favorite sample of the artist.
"Neo Geo" follows, and while it is not a bad track by any means, it may sound somewhat plain for the first one or two listens. I admit though that as I listened to it on repeat, it has a bit of an earworm to it. It has an infectious hook in what, at first glance, appears to be an unassuming song. Great melodies can do that to you.
While "Sentinel" may sound like another relatively simple tune, I grew to admire it for the hang drum sound that Blank Banshee is known for using. The beat, while slow, is varied and keeps things entertaining.
"Fund my Death" is a strange one. It is another track on the album that includes vocals, but this time both sung and spoken. While it is interesting, it feels like two separate songs. Soft vocals sing over the gentler slower parts of the track— then out of the blue, a man aggressively tells you to "fund his death" while dubstep sounds blare and "wub wub".
"Uncanny Valley" is in the same zone as "Neo Geo", interesting simplicity. There is only a small variety of instruments used in the track with not a lot of variety in how they are used, but it is nonetheless skillfully created and makes for an enjoyable song.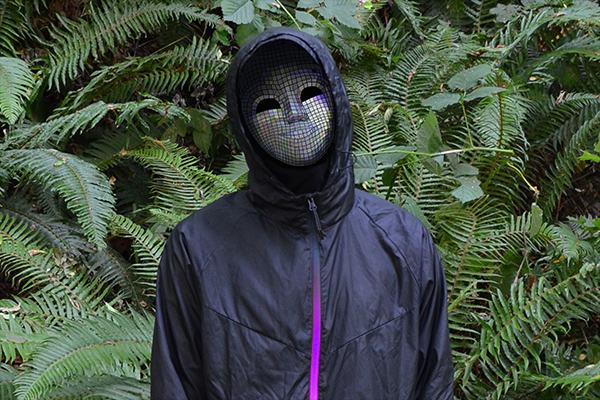 Blank Banshee meets cyberpunk in this banging track with the fitting title of "Escape." It is a song like no other on the album so it feels a bit out of place, but I would love to hear more experimentation with sounds like this. The intensity is not too overwhelming and makes for a heart-racing thrill ride that leads up to the mildest track on the album, "Batteries," a series of very slow and calming tones, wrapping up the album on a gentler note.
I am gonna come clean and say that I had some bias for this review. Blank Banshee is one of the artists that got me into vaporwave and his first album Blank Banshee 0 has got to be up there as far as some of my favorite albums go. After listening to this album though, I had to have a looooooong think about what I was going to rate it and decided that it would not be right to rate this album solely based on Banshee's previous releases. My conclusion is this: Gaia is a solid vaportrap album. There are some stumbles, but if you take the album as it is, it is more than worthy of being enjoyed and listened to as a good addition to the Blank Banshee discography.
Blank Banshee
Get The Album!
Favorite Track: Chlorine