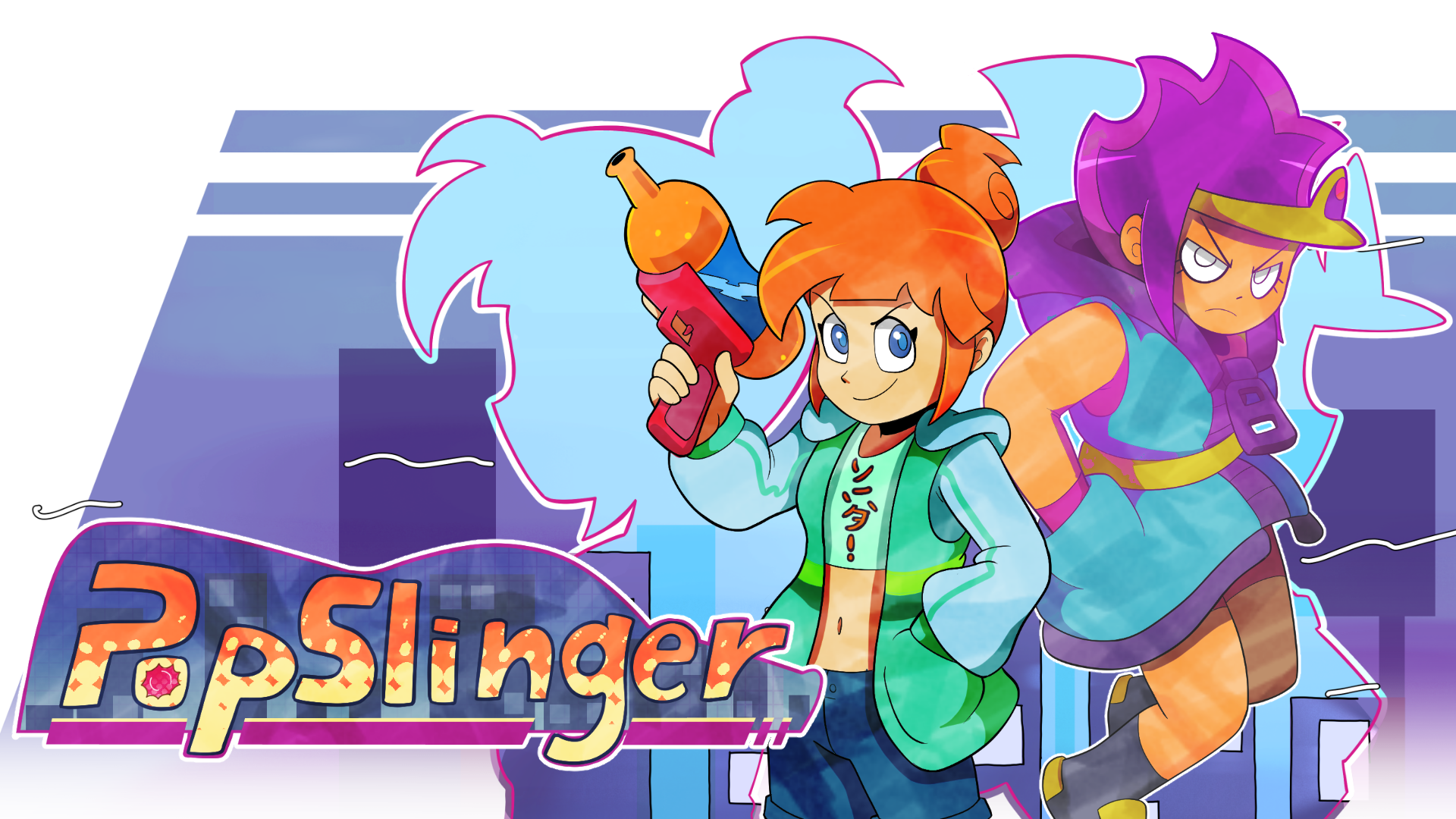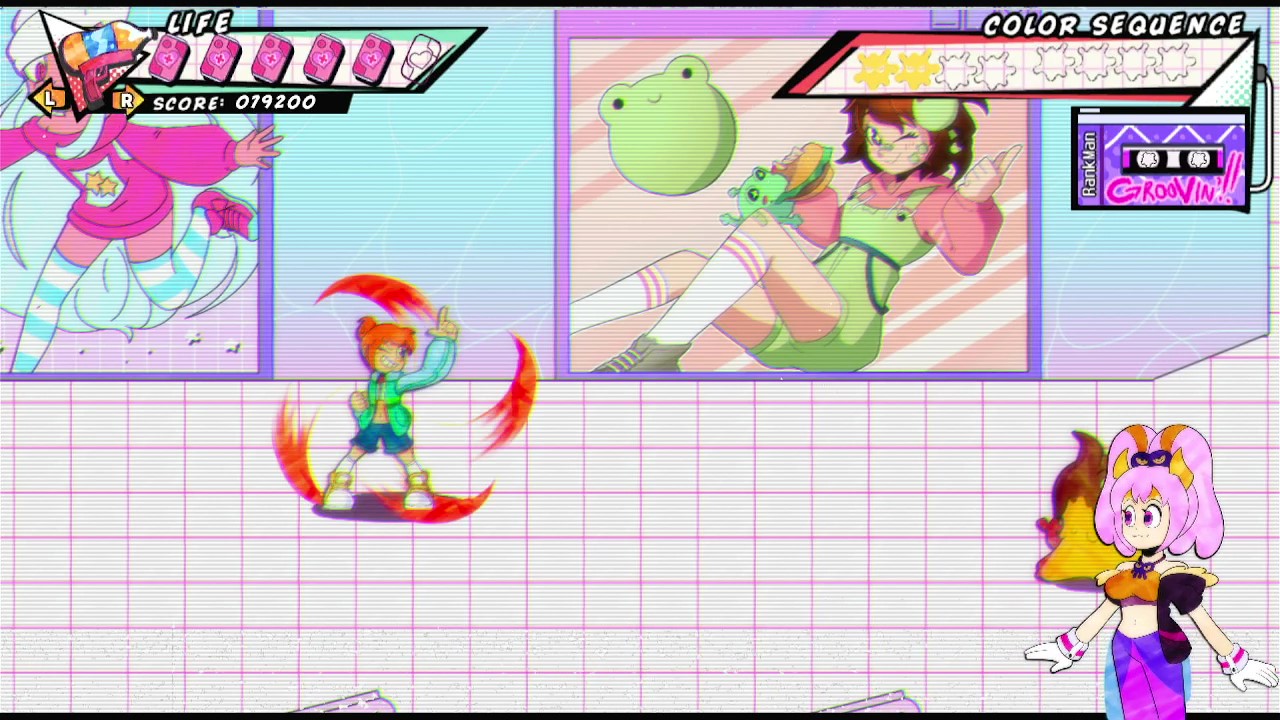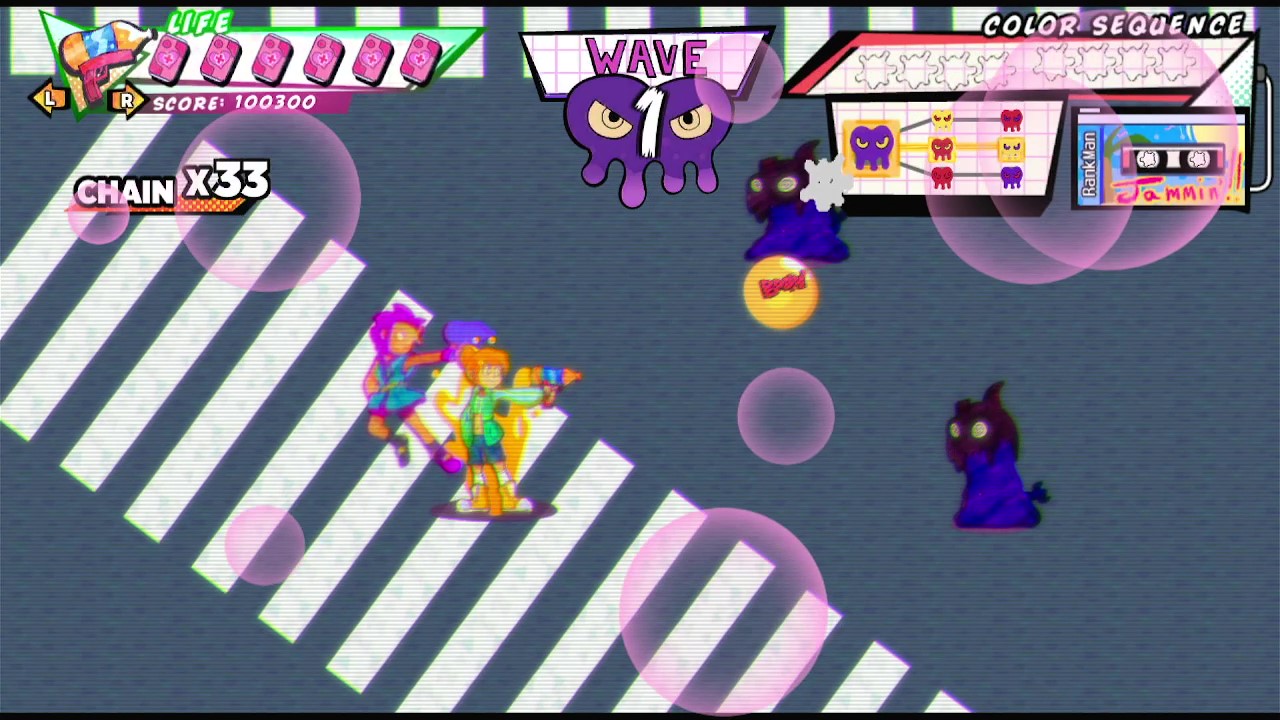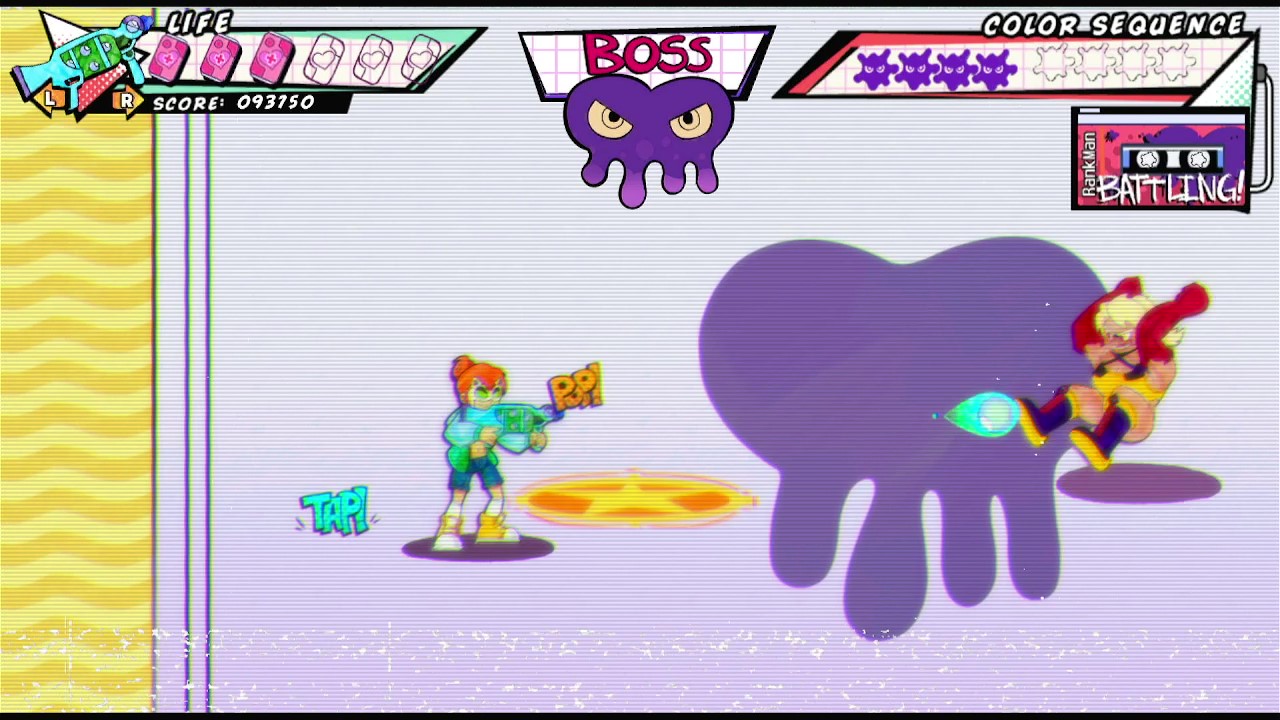 Game Review
PopSlinger


by:

Funky Can Creative
Written By: Zack
Published: January 25th, 2022
The saying "never judge a book by its cover" can be true in a lot of situations. Paradoxically, first impressions matter. No matter what, it's important to put your best foot forward and leave a lasting impression. Funky Can Creative's newest game "PopSlinger" does just that. This arcade-style shoot'em up is a bubbly, bright, and nostalgic surprise.
I was drawn in by the retro anime aesthetics and dreamy city pop-inspired soundtrack. I was even surprised to hear that the title had voice acting. That was the cherry on top that would make this game a pleasing visual novel or even an animated series. On the contrary, PopSlinger is a video game, and sooner or later you have to pick up the controller and press start to begin. The opening cinematic establishes the heroines of the game: Ria and Gin. Ria is a happy-go-lucky Pop Slinger, basically this world's version of a soda-themed magical girl, who'd rather have fun and take it easy. Gin is a dour, pragmatic spirit who understands that saving the world is serious business. The opening is brief, but it establishes their dynamic and the conflict quickly. The game wastes no time in putting the player right in the action.
The object of the game is pretty simple: get to the end of the stage without dying and get the highest score. You do this by wielding different flavors of soda guns. No, I don't mean a soda gun you'd find at a restaurant bar, but actual weapons such as an orange soda pistol or a strawberry soda shotgun. You use this effervescent arsenal to eliminate different colored slimes and earn bonus points when you pop multiple enemies of the same color. In that aspect, it is unlike your typical shoot'em up where you just hold down the fire button and blast anything that moves. In Pop Slinger, you have to sometimes pick and choose when to blast. That adds a degree of challenge to the whole experience and makes it almost like a puzzle game. If you wanna spray and pray away just to get to the end of the stage that's all fine and well, but if you want that high score and the alternate endings to the game, you'll need to slow down. Way down. The player is given a dodge button to move out of the way of enemies and have some breathing room, but this can sometimes hurt more than help. I'll explain in a moment.
This is the part of the review where I have to come clean, I was unable to finish the whole game, and that was primarily due to the game's rampant and sudden difficulty spike. You see, the goal of each level is simple, but it's not easy. I noticed this would be an uphill battle from the first level. You see, Ria, the spunky protagonist, is bigger than most of the enemies in any given level. Due to the placement of enemies and the way they shoot projectiles, an attack would just barely miss or barely hit. This inconsistency would lead to me second-guessing myself and receiving unnecessary damage. This wouldn't be too much of an issue, except PopSlinger is pretty stingy when it comes to healing items. Unlike most arcade-style games there are no consumables. You do get power-ups from getting certain color sequences, but those vary wildly in effectiveness. There is no easy mode to switch down to, nor is there a way to leave a level and redo a previous level to get a better score or practice.
(Like the game so far? Check out our audio interview with the game developer & composter)

Check out the Skule Toyama's OST for the game on cassette at Neon City Records!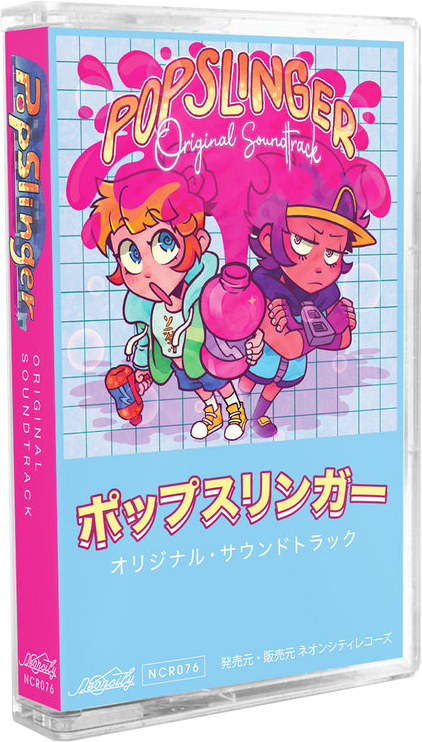 When Ria gets a color sequence, Gin will grant her a power-up to help in battle. There's your run-of-the-mill shield and healing item that can help, but some are not helpful and some can straight-up work against you in certain contexts. The turret power-up allows Gin to assist you with covering fire. The problem is she only fires in one direction and in one spot. When the enemies move around quickly, this becomes more of a nuisance than a power-up. The double power-up allows Gin to fire when Ria fires, which is good for clearing waves, but if you need to get a certain color sequence, oftentimes Gin's Pop will get a different colored enemy and you'll lose your sequence.
Perhaps the weirdest curveball this game threw at me was the idea of enemy shields. After a few levels, enemies will have different colored shields that require a soda to hit first before they can be popped. No biggie right? The pink shield can be broken with the strawberry gun. Makes sense. However, some of the shields don't correspond to a soda's color at all. For example, I found myself taking damage from an enemy with a green shield, only to find out I needed to use the cola gun to break it. The game gives no information on this and the player is meant to pick this up on the fly. This problem only compounds when multiple enemies are on the screen, whizzing towards you and each requires a different soda to defeat. Which I think brings me to my biggest critique of this game.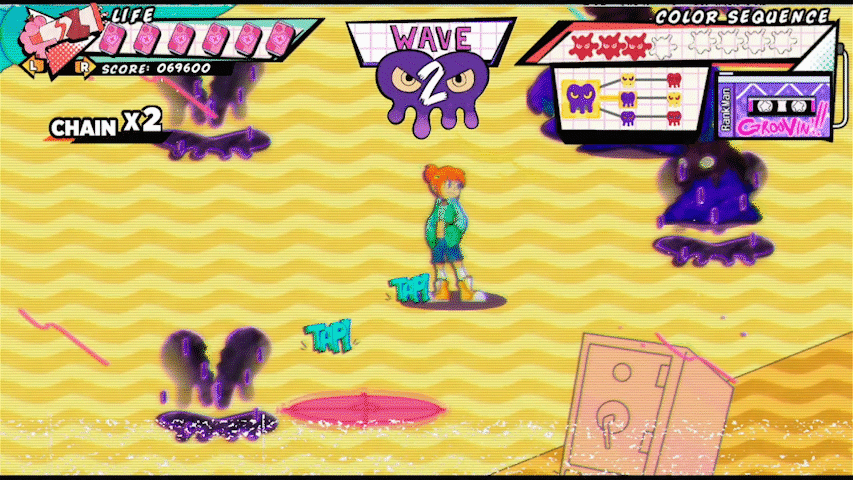 Ria may have too much energy personality-wise, but she is too slow for her own game. She fires her soda guns too slowly to break shields and hit enemies. She switches between guns too slowly. And her dodge often lands her in a worse position than where she started. This all happens while enemies move faster and faster across the screen. This can culminate in a frustrating experience that even funky french house music can't make up for.
All of these critiques are not meant to take away from the game's positive qualities. In fact, the most frustrating aspect of it all is that all of the core mechanics seem well thought out, but require some fine-tuning to make the game better overall. For example, Ria's arsenal of sodas could be easier to manage so the player doesn't have to scroll so much through guns. Some simple hit-stun when an enemy's shield is broken could give the player valuable time to pop an enemy and keep their color sequence.
Overall I feel conflicted about Pop Slinger. On one hand, I adore the cute, bubbly art and character designs. I can tell a lot of love and effort was put into the world, the music, the characters, and even the story. However, the huge leaps in difficulty paired with the inconsistent mechanics leave a sour taste in my mouth. During play sessions, I would often leave the game in the overworld just to enjoy the music (I cannot stress how much of a bop this OST is).
Perhaps this is just a long-form admission that shoot'em ups are not my genre, but I hope to see more from Funky Can Creative in the future.
Positives:
Exciting and great visuals and aesthetics
Boppin soundtrack composed by brilliant Skule Toyama
Adequate / fun voice acting
Negatives (What I'd like to see addressed in the next patch):
Switching weapons slows down gameplay and can confuse the player
The lack of directional shooting can make some parts unnecessarily harder
The small player size compared to fast moving enemies can hinder gameplay
Review Copy Provided By Funky Can Creative