Album Review
SEAWR
LD 2
by
death's dynamic shroud.wmv
Written By: C A S I N O
If you've listened to DDS before, you will know what I am talking about when I say that the group has a certain "sound" to them that I like to call heavy vapor. What is heavy vapor? It is that sound that feels loud even if you are listening to it on the quietest setting on your stereo system. All at once, it hits you with a slow and heavy base, echoing cymbal crashes, and multiple distorted vocals stacked atop each other. All of the above comes together and blasts your ass away with a sound that is, well… heavy.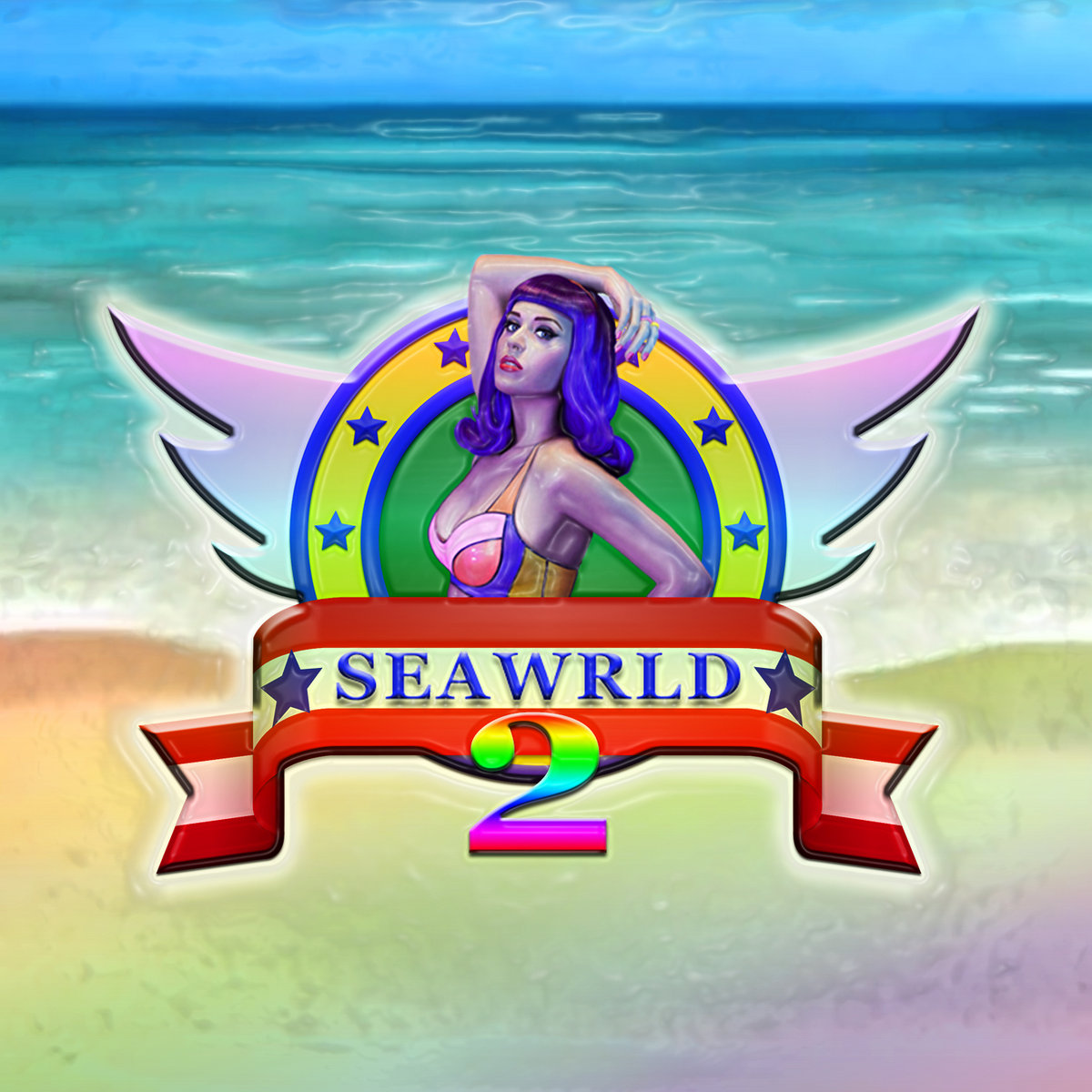 This is the sound that death's dynamic shroud.wmv has made their trademark and they've decided to double down on it for their latest album, SEAWRLD 2. So does it pay off for them? The short answer is yes.
The album begins with "オープニングシークエンス" (Opening Sequence) which gives you an early taste of that sound I was talking about, plus a bit of chiptune goodness thrown in which they do periodically throughout the album.
From there the album proceeds with "➹ ⱢȮṼℇ₨ Q⋃Ä℞℞ℇⱢ ➷"(Lover's Quarrel),which starts out sounding like something from an alternative metal band But as the synths, vocals, and percussion kick in, it turns into something completely different as you are hit with a wall of sound that defines the album— and informs you that this isn't the sort of vaporwave you are meant to use as background noise. This is music that demands to be heard.
The album gives you some time to breathe with "ƊɌỎƤŁẼƬƧ"(Droplets) and "別の Ƶ-฿☯ÅŦ ṞÏḊ∈▶︎▶︎" ([Another] Boat Ride). The first of these is a touch on the mallsoft side, reminding me of something that 식료품groceries would put out. "別の Ƶ-฿☯ÅŦ ṞÏḊ∈▶︎▶︎" is a lovely and easy to listen to chiptune song that sounds like it's come straight out of an old SNES game, but still has that slight touch of reverb to it, just to remind you that you are still listening to a DDS album.

After that, it gets right back to it with Ḷ❍₷₸ ₷ℹ︎ƓȠ∆Ḷ₷ (Lost Signals). The vocals return, as does that slow and heavy rhythmic bass, before going to "☾潮汐 §ǶĨ₣ṬṢ☽" ([Tide] Shifts) which once again eases up on you with another track that sounds like it would be at home in a JRPG.
And it was here I began to notice a pattern: as soon as the previous track finishes up, it brings you once more back into heavy vapor at its most explosive in "✦✧✦対決✦✧✦"(Showdown). The climax of the song, which serves as the midway point for the album, throws everything at you including the kitchen sink as a powerful wall of chaotic harmony (yes I know it's an oxymoron, but I invite you to find a better way to describe it) blasts into your ears, easily making it the high point of the album for me.
"⭐︎ŴⱯⱠƬƵ ☯︎F ƬǶỄ ⱮℇȐⱮⱯȈĎℇŇ⭐︎"(Waltz of the Mermaiden) follows it with more Game-Boy-Color-style chiptune that has a sort of Pokémon vibe to it. "⚓︎❖₲ḦỚṨṬ ṨḦȊⱣ ⱤḀṼÊ❖⚓︎" (Ghost Ship Rave) and "メモリ一目" (Memory Glance) set the stage for the next big song "☹︎ D E S P E R A T I O N ☹︎" (Desperation), which again approaches that climactic sound and hits you with it right away, with zero build up. I admit it was kind of jarring for me, and it keeps that sound throughout the entirety of the four minute and twenty second long song. I know this sounds odd considering how much I have been praising the sound, but everything in moderation. If there was ever a point in the album where it became "too much" it was probably this song.
The album calms down again though, with "ŦḤ⋶ ṤḤÅ₮₮⋶Ʀ⋶Ḍ ƁƦĨḌ⋶" (The Shattered Bride)— a trance-y track with a sensual kind of vibe, seductive vocals that stands out as one of the best of the more relaxed tracks of the album.
"…ẄǶĀŤ ẄḬⱠⱠ ṜẺⱮḀỊṄ ỪŇṤǞƗД (…What will Remain Unsaid) is the album's calmest, and is slightly on the more traditional side of vaporwave. It still has a unique and more "active" sound to it which leads into "ℬÆ ĒṪĒɌŇȂⱢ「君は",(Bae Eternal [You Are]), the penultimate song of the album and the last to feature that defining heft we have mentioned. Unlike "☹︎ D E S P E R A T I O N ☹︎", this track has plenty of build up to what ends up as a romantic power ballad— until the album ends with "クレジットロール"(Credit Roll), which features more chiptune and serves to act as a lid on the album.
I should say this album is not for everyone. If you are not into that intense DDS sound— and I mean INTENSE— the chiptune intermissions, as nice as they are, will not be reason enough for you to give the album a listen. However if you are like me, then prepare to get absolutely enveloped with an intensity, can be a little bit too much at times but gives you the final form of a sound that DDS has been working on for years. And damn if it has not paid off.
death's dynamic shroud.wmv
Get The Album!