Quick Look
Pleasure of Conformity


by:

Executive Sound P

roducer
Written By:
Matsu

Similar in its sound to many of the litany of aliases that DMT Tapes head Vito James has stashed under his belt, Pleasure of Conformity contains a choice selection of loops paired with a heavy use of distortion techniques, making the sound feel as if it were crushed on the roughest, toughest setting of an extra dull blender. This sort of sound is exceedingly rough in the most charming ways, its use helping to bring out a heavy rumbling from the background riffs used in each track to add a deep warmth to each track. While the use of these distortion techniques occasionally borders on drowning out more interesting parts of the samples used, the arrangement of each track is skilled enough to create loops that feel seamless.
The effects applied also help the vocals sound haunting in the most perfect manner, harkening back to earlier techniques of vapor that brought out a haunting drawl from every word spoken. Anyone unfamiliar with the sound of this artist's projects should check this album out, as his style and approach towards music is certainly experimental at the very least.
Favorite Track: Accomplished Album
Get The Album!
Written by: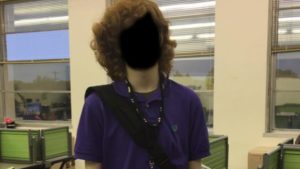 Copy Editing By: Darkfez