Utopia District Podcast
Episode 011
LATE NIGHT LIGHTS II
A Late Night Lo Fi & Vaporwave Festival Recap
You have arrived at Utopia District, the premiere destination for vaporwave, future funk & internet music, art, culture, and community! Feel free to visit our website! https://utopiadistrict.com
Follow us on your favourite Podcast Platform!
Catch us in our Discord server to join in on the fun! https://discord.gg/DVdDzr8
Hello and welcome back to the Utopia District podcast! ✨ Grab your TV dinner and sit back with us as we reminisce over our massive two-day LATE NIGHT LIGHTS II late night lo fi and vaporwave URL festival, from back on July 16th and 17th, 2022. Find all the musicians and visual/video artist details on the official website at latenightlofi.com!
Follow us on your favorite podcast platform below so you don't miss any future episodes!
Spotify | Amazon | Google Podcasts | Apple Podcasts | YouTube | Stitcher
Listen Notes | TuneIn | Deezer | iHeartRadio | RSS
Episode Discussion Topics
We encourage you to check out the official festival website at latenightlofi.com
Creating a stage and shared space for both up and coming and OG artists.
The mindset of marrying visual art with a musical soundscape. Techniques and thoughts.
Transporting a viewer into a universe.
The build up from Late Night Lights 2020 to Late Night Lights II.
What putting an event like this together takes.
Why we do Late Night Lights, and the future of the festival.
ElectroniCON3 and visiting New York in August.
Vaporwave Tape Swap (New Lineup!)
Check out the LATE NIGHT LIGHTS II Ultimate Merch Bundle, containing one 4-Disc Blu-ray Collectors Set, 5-Tape Cassette Box-Set with one song from every participating artist, one full-size Late Night Lights event poster in 24″ x 36″, and one Late Night Lights festival T-Shirt (in any size): https://utopiadistrict.bandcamp.com/merch/late-night-lights-ii-collectors-edition-ultimate-bundle-blu-ray-cassette-box-set-t-shirt-poster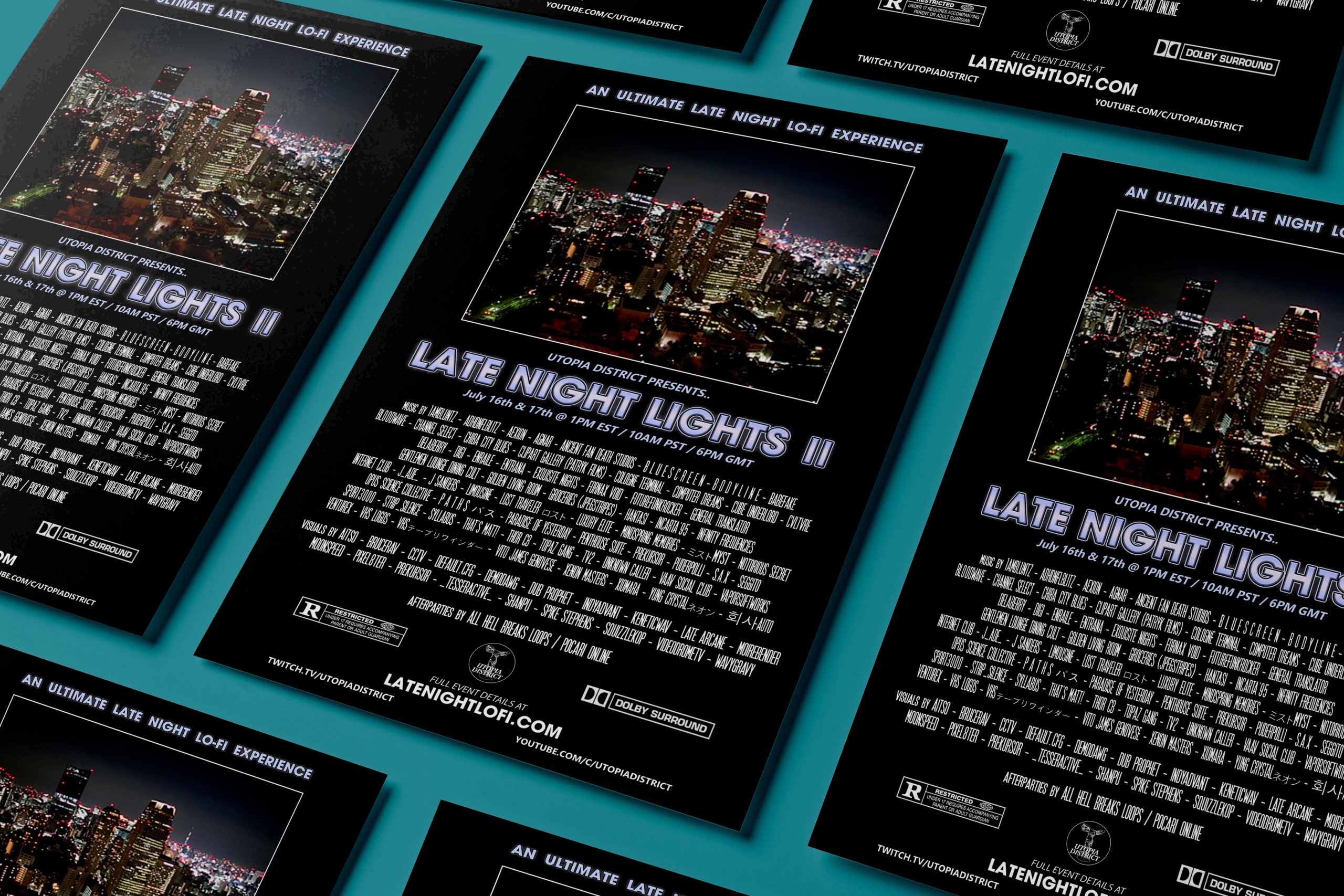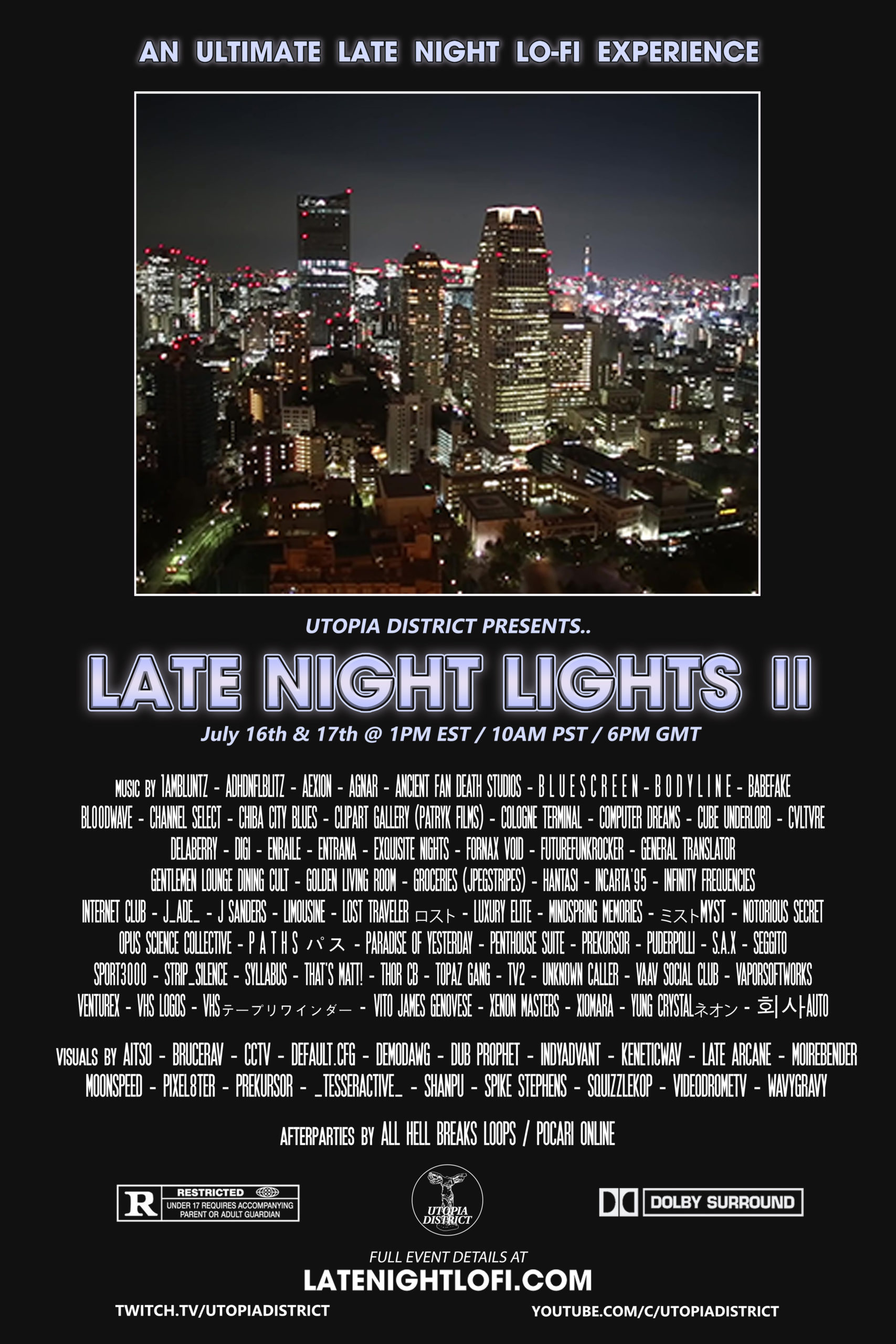 MUSIC FROM THIS EPISODE
蜃気楼MIRAGE – Alone (bonus track via Digital Purchase)
Gentleman Lounge Dining Cult – Live @ LATE NIGHT LIGHTS II
MUSICIANS
Late Night Lights wouldn't exist if it weren't for the musicians make it up. We are thrilled and honored to work with each and every artist here.
1amBluntz, ADHDNFLBLITZ, Aexion, AGNAR, Ancient Fan Death Studios, b l u e s c r e e n, BABEFAKE, bl00dwave, bodyline, channel select, Chiba City Blues, Clipart Gallery (Patryk Films), Cologne Terminal, Computer Dreams, Cube Underlord, CVLTVRΣ, delaberry, Digi, Enraile, Entrana, exquisite nights, Fornax Void, FutureFunkRocker, General Translator, Gentlemen Lounge Dining Cult, Golden Living Room, Hantasi, Incarta'95, Infinity Frequencies, INTERNET CLUB, Jade, Limousine, Lost Traveler ロスト, luxury elite, MindSpring Memories, Notorious Secret, Opus Science Collective, P A T H S パス, Paradise of Yesterday, Penthouse Suite, Prekursor, PUDERPOLLI, S.a.x, Seggito, Sport3000, strip_silence, SYLLABUS, That's Matt!, thor cb, Topaz Gang, TV2, Unknown Caller, VAAV SOCIAL CLUB, Vaporsoftworks, VentureX, VHS Logos, VHSテープリワインダー, VITO JAMES GENOVESE, Xenon Masters, Xiomara, YUNG CRYSTAL ネオン, 식료품groceries (JPEGSTRIPES), 회사AUTO, and ミスト M Y S T!
Find all the musician details on the official website, with samples of their work, and where to follow them! https://latenightlofi.com
VISUAL ARTISTS
These people do incredible work bringing music to life with their video art and masterful visual production.
Aitso, All Hell Breaks Loops, BruceRav (Pizza Slut), CCTV, Default.cfg, Demodawg, Dub Prophet, IndyAdvant, Keneticwav, Late Arcane, moirebender, MOONSPEED, Pixel8ter, Prekursor, Tesseractive, Shanpu, Siphonophore AV, Spike Stephens, Squizzlekop, and VideodromeTV 🌟
Find all the visual/video artist details on the official website, with samples of their work, and where to follow them! https://latenightlofi.com
GUESTS ON THIS EPISODE
Gbanas92
https://twitter.com/gbm_games
InterroFlashbangDynamite
https://twitter.com/mindiddlydindy
SquizzleKop
https://twitter.com/SquizzleKop
https://instagram.com/squizzlekop
PizzaSlut
https://twitter.com/Pizza_SLT
https://instagram.com/brucerav
DemoDawg
https://twitter.com/plasticpalms1
https://instagram.com/dem0dawg
Dub Prophet
https://youtube.com/c/DubProphet/videos
Notorious Secret
https://twitter.com/NotoriousVapor
https://notorioussecret.bandcamp.com
We put a lot of work into bringing out our idea of the late night lo fi aesthetic, and are very proud of what we managed to accomplish for our visual design of the event. Hopefully we can transport everyone into our universe and give you an ultimate late night lo fi experience you'll never forget! This event has been a massive undertaking, and it wouldn't be possible without your support If you have a minute, feel free to give us a follow on our various platforms to stay up to date with what we have going on! It really helps us keep the lights on. Thank you!!
LATE NIGHT LIGHTS II after parties by All Hell Breaks Loops, and Pocari Online
If you'd like to support us directly, shoot us a tip! https://paypal.me/utopiadistrict
Or check out our merch on Bandcamp and support some artists too!
https://utopiadistrict.bandcamp.com/merch
Check out the official website for full musician & visual artist details at latenightlofi.com!
UTOPIA DISTRICT
Videos – Don't forget to subscribe to us on Twitch and YouTube so you catch our events and video uploads!
https://twitch.tv/utopiadistrict
https://youtube.com/c/UtopiaDistrict
Podcast – Check out our episode back catalog below!
https://utopiadistrict.com/podcast
Catch us in our Discord server! https://discord.gg/DVdDzr8
✧ https://twitter.com/UtopiaDistrict
✧ https://youtube.com/c/UtopiaDistrict
✧ https://facebook.com/UtopiaDistrictOnline
✧ https://instagram.com/UtopiaDistrictOnline
Host : IndyAdvant
Twitter | Instagram | YouTube | Facebook
Utopia District Links
Website | Twitter | Facebook | Instagram | Twitch | YouTube
Follow us on your favorite podcast platform below:
Spotify | Amazon | Google Podcasts | Apple Podcasts | YouTube | Stitcher
Listen Notes | TuneIn | Deezer | iHeartRadio | RSS